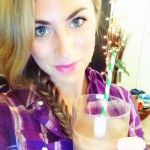 Healthy-ish Chocolate Nog Shake
There's something about Egg Nog and the holiday season, it's just a must! I guess that's if you're an Egg Nog fan. ;) Well, I don't actually drink the "original" Nog, I'm more of a fan of the Almond Milk Nog or Coconut Milk Nog. Going non-dairy here is the way to go for me, and depending on the brand you're buying you'll find a lot less of the refined sugars used in the "original" nog. Nog is still a sugary treat, so I'm not saying it becomes healthy all of a sudden, please continue to be mindful of this treat and enjoy in moderation. ;) So there's my stance on "The Nog", but now let's talk about this Chocolate business.
There's a reason females crave chocolate especially that one time each month. Our bodies are working extra hard and we're needing those extra antioxidants, mood boosters, and the iron and magnesium that chocolate (the real stuff) provides. So ladies, go for that chocolate, but the real stuff! Not those "healthier" chocolate bars sitting at the check out stand at the health food stores (sure, go for those sometimes), but grab a bag of Raw Cacao Powder for your pantry to have on hand. Raw Cacao Powder came straight from the plant, cacao. This is the original nature of chocolate, before it's been heated and refined and stripped of the nutrients that your body is actually craving!! There are so many things you can make using your Cacao Powder, like these Grain Free Cacao Brownies posted HERE, and this Healthy Chocolate Nog Shake I've created.
I added the miraculous adaptogen, Maca into this shake for other hormone balancing properties and for a great energy boost!
Drink, Enjoy, and Be Merry!

[recipe]3621[/recipe]