Healthy Travel Trip: Bring your Waffle Maker!
Healthy Travel Tip:
Bring your Waffle Maker!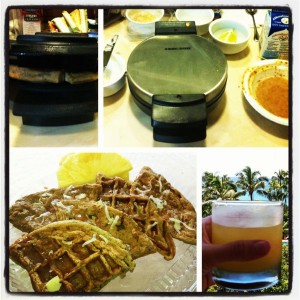 I have recently discovered my new trick for when I'm traveling... bring my waffle maker! It's brilliant! Why? Well, there's actually a lot you can make with a waffle maker, but for me, I can make my favorite healthy gluten free breakfast every morning while traveling. I am crazy about these Protein Pancakes that I now make as waffles, it's my favorite meal and recipe from the Nutrition Plan that I live by!
Watch this video:

THE LINK... click

HERE

!
Let's get to the point here... are you still scratching your head about packing a waffle maker on your next trip? Well, think about this... You can save money on room service and hotel breakfasts, you can eat healthy, and have a delicious breakfast! After-all, breakfast is the most important meal of the day! Oh, and most importantly for my gluten free friends, this is one way you can avoid at least one meal of cross contamination, and you know this is a relief.
All you need is your waffle maker (a light weight one to travel with is best), then hit the grocery store right when you get to your destination and use your mini fridge in your hotel room to store all that you need for your protein waffles. I also bought a few plastic/paper bowls to use for mixing my pancake/waffle mix and some olive oil cooking spray. You may want to buy some plastic utensils as well, but I asked the hotel for some utensils.
  To make your protein waffles, preheat your waffle maker as instructed and spray with your nonstick spray, then follow the Protein Pancake recipe and mix your ingredients in a paper bowl (or ask hotel for a bowl). Pour your ingredients on the waffle maker and voila, they will be done before you know it! You can add some berries (grab those at the store too) to the top! And don't forget your "Bombshell Spell", my favorite metabolism drink to start the day. (Bombshell Spell Recipe can be found on the Nutrition Plan!)
Some Tips:

-Make sure you remember to bring you Protein Powder with you! The gluten free one that I love is made by my Trainers!
-If your room doesn't have a mini refrigerator, call the front desk, most hotels keep a few extra mini fridges in storage and can provide upon request.
-Buy a few plastic utensils and paper/plastic bowls and plates or ask your hotel for a few utensils, bowls, and plates and rewash them after each use in your room sink!
-If you don't have non-stick cooking spray you can ask your hotel for a side of butter... a little won't kill you, especially compared to a restaurant breakfast you would have ordered if you weren't making protein waffles!
-If your hotel has a buffet or continental breakfast, grab some fruit or sides for your waffles. I grabbed some coconut shavings from my hotel's breakfast buffet! It was perfect for a tropical version of waffles.
-Be creative! You can make this work!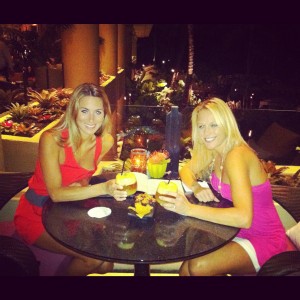 I had such a fun trip with my girlfriend Casie. We were working while we were in Hawaii but we found time to unwind at the end of our days (picture above). We always looked forward to breakfast though! It was so much fun to travel with someone who was also following the Nutrition Plan, find a girlfriend to join you!
I would love to see pictures of you traveling with your waffle maker and hear about how it worked for you! Post a comment below or send a picture via facebook or twitter!
Happy Healthy Travels!