New Years Deals!
Discounts for YOU!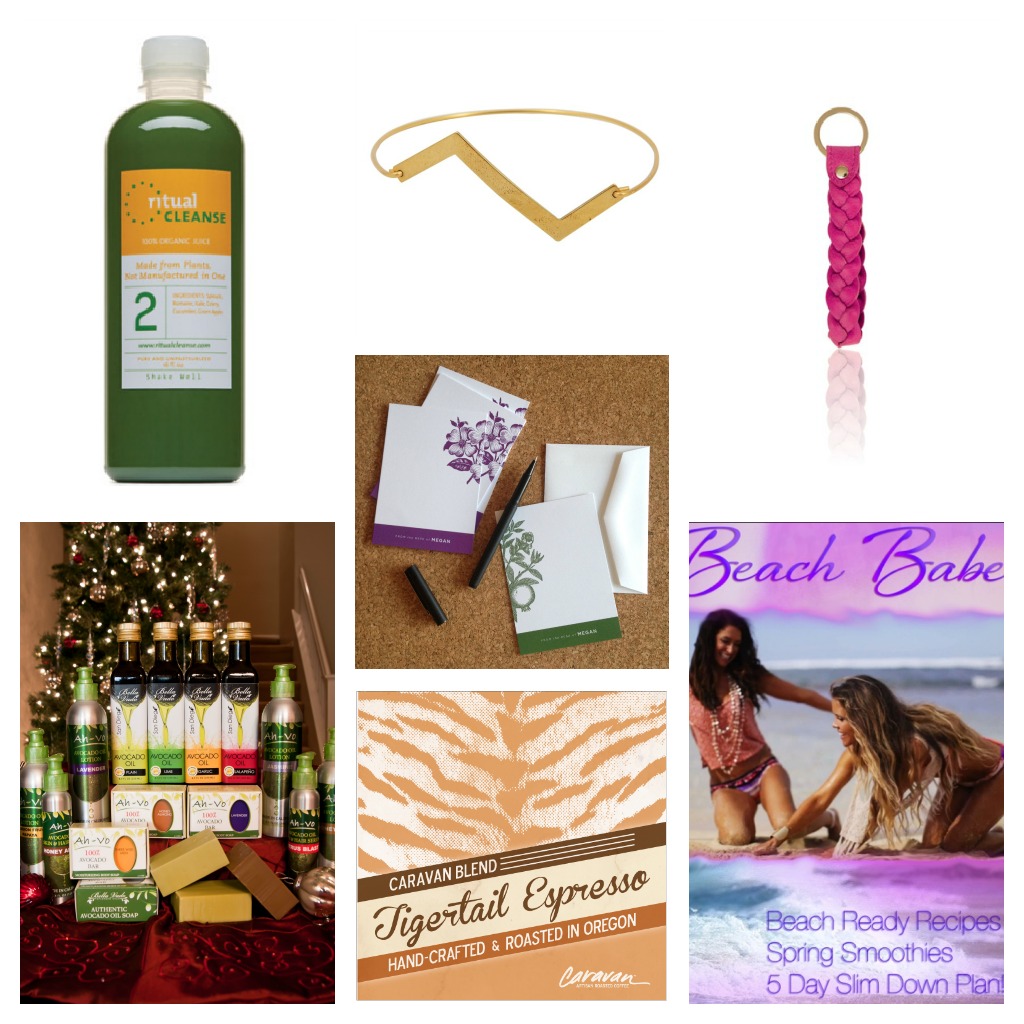 Some of my favorite things from my Holiday Gift Guide are still honoring great deals! 
Get your friends, family, coworkers, or yourself some great gifts to start off the New Year!
For Good Health:
Start the year with a 3 day juice cleanse to reset your body and give your system a break from all of the goodies and excitement of the holiday season. Follow it by kicking off the rest of your year and learn to live the Beach Babe way. Buying this Nutrition Plan was the best gift I've ever given myself, and it has seriously changed my life.
-When you buy a 3 Day Ritual Cleanse you can get $50 OFF using this code: TENLEY50 This code expires December 31, 2012 To order go to: www.ritualcleanse.com (I order the Seasonal Reset w/ 3 days of "Shred" to workout)

-For a one time price of $150 you can change your life! This is priceless. The Nutrition Plan will show up within minutes in your E-mail after ordering. To learn more, Click HERE.
Cheers to Great Health in 2013!
Gifts for the Hostess, Coworkers, Friends, & Family...
These gifts are the perfect gift to give to those you want to recognize for their importance in your life, but you may not have seen them through the Holidays and want to give them just the right thing to tell them you appreciate them and cheers to the New Year! These are also great gifts for yourself to begin your new year nice and fresh!
-Coffee Beans from my hometown coffee roaster, Caravan Coffee. Use code: TENLEY for 10% off! And when you spend $25 or more you'll get free shipping! This code expires December 31, 2012. To order go to: www.caravancoffee.com
-Bella Vado Avocado Oil is a great addition to the kitchen! This special offer is good until JANUARY 31, 2013 - Yay!! Order here: www.bellavado.com and use code: TENLEY12 for 15% OFF until January 31, 2013
Gifts for YOU
To start the year right I think it's important to treat yourself right. After a busy Holiday Season it's time to remember that you're important, get yourself a few gifts that will add some specialness to your life.
-Customized stationary from Hi, Friend Designs to write special notes and thank you's to friends. I love everything they have here at this online store, you'll find other great gifts for friends too. Use this code: TenleysGift for 15% OFF! This deal expires December 31, 2012 Shop here: www.hifrienddesign.com
-Bixby & Ball is a favorite chic store, some of my favorite things are their monogram gold bracelets (dainty and chic) and classy braided keychains. Really, there is something for everyone here! Use code: TENLEY for Free Shipping--This code does not have an expiration date at this time. Woohoo! Check out their online store: www.bixbyandball.com
-I'm a big fan of buying from "for profit" companies and I absolutely adore the jewelry from www.isanctuary.com. The purpose of this company is awesome, as they are helping survivors of human trafficking. Get handmade jewelry that will always have a special meaning. Use code: sweetfreeshipping for Free Shipping! This code expires December 31st, 2012.
-Lusso Bags are another favorite of mine! I love my small hummingbird tote and absolutely love that this is another company that pays it forward. 5% of proceeds go towards stopping human trafficking. Order at: www.lussobags.com and use code: FREESHIPPING for Free Shipping-This code does not yet have an expiration date!! ;)
Happy New Year Everyone!
Cheers to a happy, healthy, and very blessed New Year!
Happy Shopping! ;)