Southern Summer Nights Look
Southern Summer Nights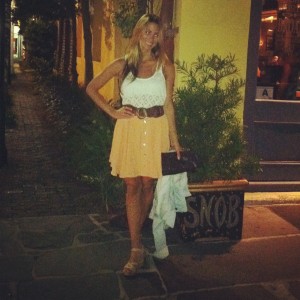 On our recent trip to Charleston, South Carolina I had to have something to wear that would fit in with the southern charm. I went to my friends at ShopModerne.com and found the perfect outfit that made me feel like a Southern Belle.
As soon we landed in Charleston, our first stop was our dinner reservations at one of the best restaurants in town, S.N.O.B. (Slightly North of Broad). We cleaned up quickly from our day of travel and got into our clean clothes for dinner. I knew exactly what I was going to wear!
For my Southern Summer Nights outfit I chose this sweet lace tank paired with this peach skirt. I kept the accessories simple wearing my favorite everyday necklace and of course a belt! Have you noticed I belt everything? I found a cute lace bandeau to go under the tank. Last but not least, I thought that a pair of feminine wedges was the right way to go for this summer evening out on the town.
Do you like these looks? I'd love to see your idea of a Southern Summer Nights look, please send pictures my way and I'll feature some of them in a another post soon!
Get these looks from ShopModerne.com! They are so good to YOU offering a 15% off discount of your whole purchase at checkout, just enter code: SHOPHONEY
Get the Looks!