Gluten Free Chocolate Chip Cookie Jars
Gluten Free Chocolate Chip Cookie Jars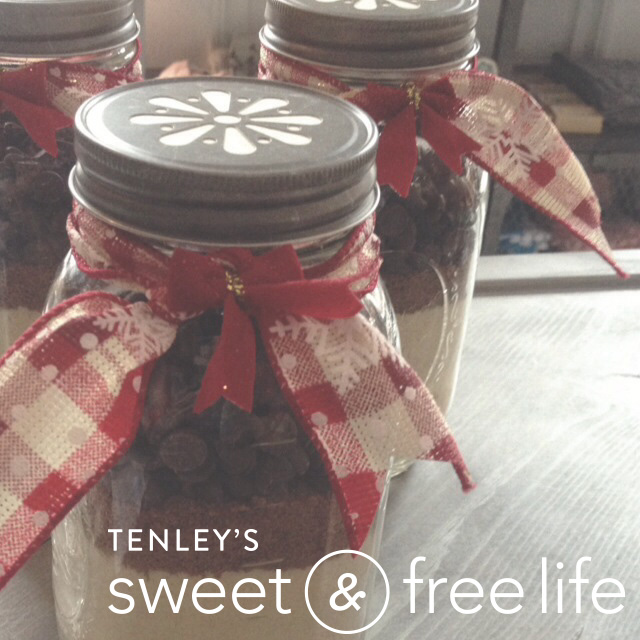 Happy Holidays My Friends!
I've been doing some baking, which is one of my favorite things to do for friends and family, especially at this time of year! I had been playing around with chocolate chip cookie recipes, and my goal was to create a cookie that was not just gluten free, but grain free as well. My next goal was to not have any refined sugar and to make the cookies low-glycemic... I NAILED IT! I have created a "healthier" (There are still chocolate chips!), grain free, gluten free, paleo friendly, a "lower in sugar" chocolate chip cookie that everyone I served one to said that they needed more, and more, and more! I thought, if these are this good I should share them with everyone! So I decided to put my specialty high quality ingredients in a jar for all of you to be able to make in your own home or give as gifts this holiday season!
My Cookie Jars are excellent gifts as everyone loves something sweet, but especially love when they can almost feel guilt free indulging in a sweet treat! ;) Place one of these delicious mixes in a loved one's stocking, give to teachers, neighbors, friends, anyone that you know that follows a gluten free or grain free lifestyle!
Made from high quality and specialty ingredients like Almond Flour and Coconut Sugar, these cookies will be the best you've ever had!
Taking orders for the holidays until noon Pacific Standard Time on Friday, December 13th. All orders will be shipped on Saturday, December 14th.
Get yours TODAY!! Order HERE
Happy Baking!
xo,
Tenley