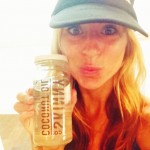 Get Glowing with Coconut Oil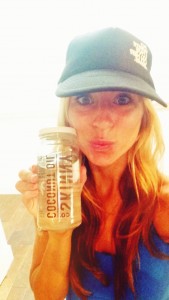 It's beginning to be truly evident that Coconut Oil is a must have in your household.You can use it for nearly absolutely anything!! Recently a friend of mine had commented on a Facebook post I had done sharing the benefits and uses for coconut oil (and there are a lot), so she said to me, "Next I'm going to find out that you change your oil with coconut oil and even fuel your car with it!" Haha.  I wouldn't go that far, but we do already know that Coconut can fuel us, and in a nutshell, it can kind of be like an oil change for our bodies!
In fact, I believe that since I've been using my skinny coconut oil I have seen a difference from the inside out, like a glow! My face is brighter, my skin is silkier, and my teeth are even whiter! Yep, you can even use coconut oil for you teeth. See the picture above? I'm not just attempting another "duck face" selfie, I'm Oil Pulling!
So let's talk about the Beauty Wonders of Coconut Oil...
Use as a Moisturizer or even as your Shaving Cream! Coconut Oil is extremely moisturizing and can hydrate your skin naturally. When you're using Skinny Coconut Oil as a lotion it sits on top of your skin for a few minutes before it soaks in and deeply hydrates. Because it is an oil I like to sit down on a towel and begin my coconut oil hydrating process. I let it soak in for a bit before I get moving or I hop into the shower and I shave my legs using the silkiness of the the Skinny that is layer on top of my skin. No matter which route you take you come out with extra glowing stems.
Eye Makeup Remover!  I love using Coconut oil to remove my eye makeup and get rid of the extra makeup residue. It is so gentle, silky, and natural-- so not toxic while working around my eyes. The big thing here is no harsh chemicals and you're moisturizing your pretty face at the same time! What I like to do is wash my face, and then take a cotton pad or tissue and get a dab of coconut oil and run it around my eyes, removing excess eye makeup. Voila! When you wake up in the morning  you will no doubt have a glow about you. ;)
Brighter Smile and Better Oral Health! This is something that I didn't try until I had Skinny Coconut Oil in my hands. I had been hearing about it in the health and wellness world, but I took my time as I warmed up to the idea of what they call, "Oil Pulling". Once I had such a pure and raw form of Coconut Oil in my possession I decided to give it a try and I love it! Oil Pulling is excellent for your oral health. Your teeth become whiter, your breath is fresher, and you will even notice healthier gums. The awesome bonus using Skinny Coconut Oil while oil pulling is that Skinny contains more than 50% Lauric Acid (which you usually only find in Breast Milk). Lauric Acid can promote healthy immune function, so not only are you giving your oral health a boost, but you're giving your whole body an extra boost. Here's how you do it... First thing in the morning, swish one tablespoon of Skinny in your mouth for 5-20 minutes. (I like to do this when I'm showering) Don't swallow or gargle, just swish. After you're finished, spit it out (I read that into toilet is best), then rinse mouth with warm water and brush those pearly whites for a glowing smile!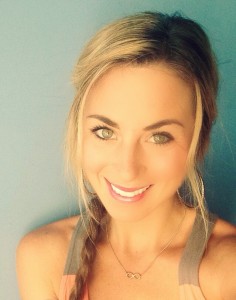 There is so much more to learn about Coconut Oil, it really is a wonder. I definitely recommend adding a pure Coconut Oil, like Skinny to your household. In fact, a few bottles wouldn't hurt considering all of the uses. Now it's time to get your glow on, let me know what you think and how you're using your Skinny Coconut Oil! 

For More on Skinny: www.SkinnyCoconutOil.com