Roasted Rosemary Butternut Squash & Sweet Potatoes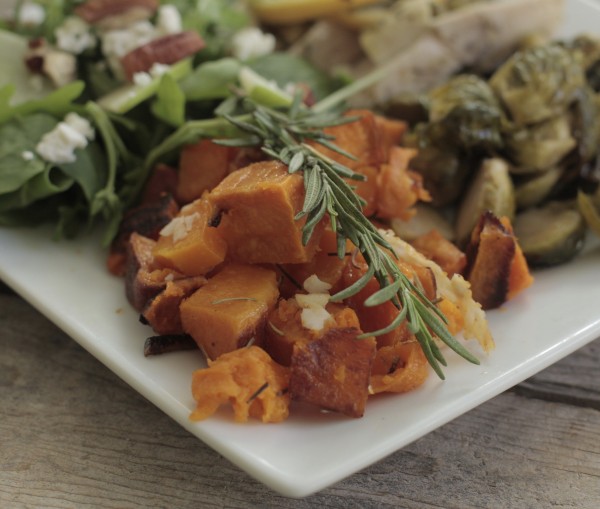 A favorite warming dish. Complex Carbohydrates that won't spike your blood sugar, but leave you satisfied and energized. So much flavor too. I often use this dish as a side, or have it cooked up for the week to make Breakfast Bowls and/or lunch and dinner bowls. Just add some protein, some leafy greens, a healthy fat, and you're set!
This is a great dish to take to holiday gatherings and is an easy one for those with restrictive food sensitivities!
Ingredients

Organic Avocado Oil (for high heat)
1 Organic Butternut Squash Cubed
2 Organic Sweet Potatoes/Yams, cubed
2-4 Cloves of Garlic, sliced into slivers
Ground Black Pepper
Optional: Shredded White Cheddar Goat Cheese (I use Goat Dairy as it is not as hard on the tummy, for most)
Instructions

Pre-heat oven to 400
Place Cubed Butternut Squash and Cubed Sweet Potatoes/Yams into a medium size bowl
Drizzle Avocado Oil
Add in slivered Garlic
Sprinkle a generous amount of Himalayan Pink Salt & Pepper
Generously sprinkle Rosemary
Massage ingredients together and mix so all is cover
Place on a Cookie Sheet (Use parchment paper to help from sticking)
Place in oven for 35-40 minutes (or until veggies are golden and texture is soft)
Optional: Add Shredded White Cheddar Goat Cheese as soon as you pull veggies out of the oven to let cheese melt
Serve while hot. Place in a serving dish and voila!
/ tags / Gluten-Free, Grain-Free, Side Dishes, Vegetarian, Veggies