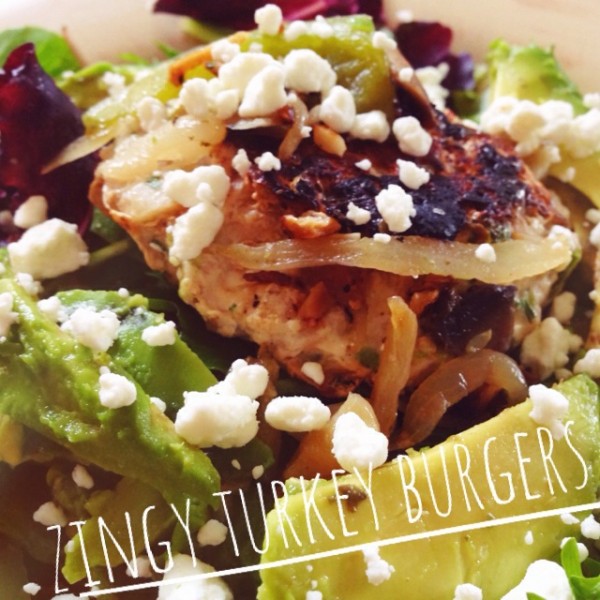 An excellent healthy burger with the perfect 'zingy' flavor!
Ingredients

-1 lb Organic (White Meat) Ground Turkey
– 1 Cup (or more) Cilantro, chopped
-2 Serrano Peppers thinly diced
-1/4 Cup Onion, finely chopped
-2-4 cloves of Garlic, minced (I love a lot of garlic)
-1 Egg – * This is optional, you don't need it, but it will hold everything together even a little better!
-Handful of chopped Green Onions if you have them – these were a last minute toss in for me!
-Season with Himalayan Pink Salt, Fresh Ground Black Pepper, and a sprinkle of Red Chilli Flakes for added Zing!
Instructions

-Prep all of your ingredients that need to be chopped, diced, and minced!
-Combine all ingredients in a bowl with Organic Ground Turkey. Use a fork or hands to mix everything in. I have the most success with my hands, but make sure you wash them well!
-Divide into size of pattys you want to serve. I think bite size might be fun for a Superbowl party coming up!
-Stick your Zingy Turkey Burger pattys on the grill or on the stove top to cook until cooked all the way through. If cooking on the stove top, use a little Grapeseed Oil to avoid sticking to the pan.
-Place on a Gluten Free Bun, Lettuce Wrap, or my favorite… on top of a bed of lettuce (like a nice spring mix)!
-If you're creating a Salad I placed my Turkey Burger right on top of the bed of greens, added the saute I made (recipe below), sprinkled with goat cheese, added sliced avocado, and a balsamic drizzle on top— soooo delicious! Would be delicious with a lite Honey Mustard as well.
-Enjoy!!!!
/ tags / Dinner, Gluten-Free, Lunch, Main Dishes, Salads