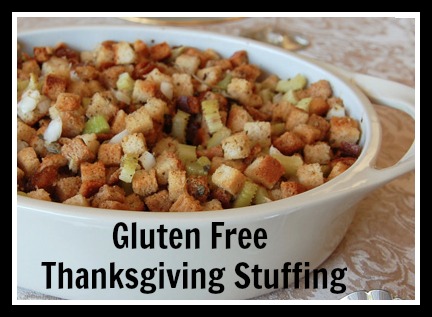 Confession: For many years I didn't like Thanksgiving food, I didn't even like stuffing! But as I've grown older I realized what I was missing out on… but then I became gluten free, so I had to miss out for the last couple of years. Last year, my boyfriend, Kiptyn and I decided to host a Thanksgiving dinner together, this put the meal planning in our hands. We made an incredible Gluten Free feast, and even created some vegan dishes to cater to some of the other dietary needs around the table. It was a lot of hard work, but so worth every bite and the time that we had with our families. It made me very Thankful for all the years of my mom and others taking on the task of hosting this special day.
Of course I found the easiest way to create a good stuffing, we were juggling a whole meal! 😉 I found a gluten free stuffing (packaged toasted and cubed g-free bread). You can find several options at your local health food store like whole foods.
*This recipe was simple and delicious and it even freezes well. I had leftovers from Thanksgiving and put them in the freezer and pulled them out for our Christmas dinner. It was perfect! So you can always double the batch to make sure you have some to serve for Thanksgiving and more for another holiday dinner down the road.
Ingredients

-3-4 Stalks of Celery, diced
-1 Onion, diced
-1 clove garlic, mixed
-1 tsp of dry rubbed sage
-1 tbsp fresh thyme chopped, or dried thyme
-1 tbsp rosemary
-1/4 cup fresh parsley
-1/2 tsp of sea salt
-1/2 tsp of ground black pepper
-1 tbsp of Grapeseed Oil (I use this instead of Olive Oil when heating my food)
-2 cups of Chicken or Vegetable broth (I used veg. broth to make it vegan, and ALWAYS check to make sure broth is Gluten Free)
-8 cups of your G-Free stuffing mix (or make your own cubed, toasted, gluten free bread)
Instructions

-Preheat oven to 350
-Add Grapeseed oil to the saute pan over medium heat
– Add the onions and celery and aute for about 5 minutes or until the onions soften
-Add the garlic and cook for one minute more.
-Add the sage, salt, pepper and stock and bring to a simmer.
-Add bread cubes/stuffing mix to a large mixing bowl and pour the hot broth mixture over it.
-Add the fresh herbs and mix well.
-If the bread seems too dry more stock can be added.
-Taste for salt, and adjust to your liking.
-Transfer to a oiled (I use grapeseed oil spray) baking dish.
-Bake for 40 minutes, or until top is golden-brown.
/ tags / Dinner, Gluten-Free, Lunch, Side Dishes, Vegetarian