Tempeh Quinoa Collard Wrap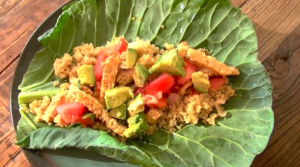 What is Quinoa? 

*Information from Tone it Up

Quinoa is the edible seed of a plant that from the Andes region of South America. It looks and tastes a lot like more common grain varieties even though it's actually more closely related to beets and spinach! We like quinoa because it is a complete protein source and makes a perfect gluten free substitute for other cereal products.
To cook 1 cup quinoa, start by thoroughly rinsing the seeds. Place them in a saucepan with 1&1/2 cups of water. Let the quinoa soak for about 5 minutes. This will help it cook more evenly. Bring the water to a boil. Reduce to a simmer and cover. Cook for about 13 minutes or until all the water has evaporated, stirring occasionally. Remove from heat, fluff and serve.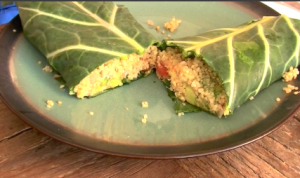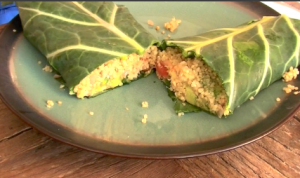 Ingredients

1 Whole Collard Leaf
4 oz. Tempeh, cut in thin strips- I like chicken too! (Make sure your Tempeh is Gluten Free, if you're G-Free like me)
1/4 cup Quinoa, cooked
1/4 cup Onion, diced
1 Roma Tomato, diced
1/2 Lime, squeezed
1/8 Avocado, thinly sliced
1 tsp. cilantro (optional)
1/2 tsp. Chili Powder
1/2 tsp. Black Pepper
1/2 tsp. Cayenne Pepper (optional)
Instructions

-Place tempeh over medium heat in a skillet sprayed with non-stick cooking spray, add in spices and onions and cook for about 4
minutes or until lightly browned on both sides. Lightly steam the Collard Leaf until soft. Cook quinoa according to the instructions above. For 1/4 cup Quinoa use 3/4 cups water.
-Remove tempeh and collard from heat. Lay collard leaf flat on a plate and fill with quinoa and tempeh and top with
tomatoes and avocado slices, squeeze lime juice over all ingredients. Wrap up burrito Style to serve!
-If you'd like, top with a little bit of fresh salsa!
Tip: You can double or triple this recipe to feed more people! You can also make this recipe with a whole wheat wrap instead of the collard or replace the tempeh with chicken, tofu or fish if you aren't concerned with making it gluten free or vegan.
/ tags / Dinner, Gluten-Free, Lunch, Main Dishes, Side Dishes, Vegetarian, Veggies