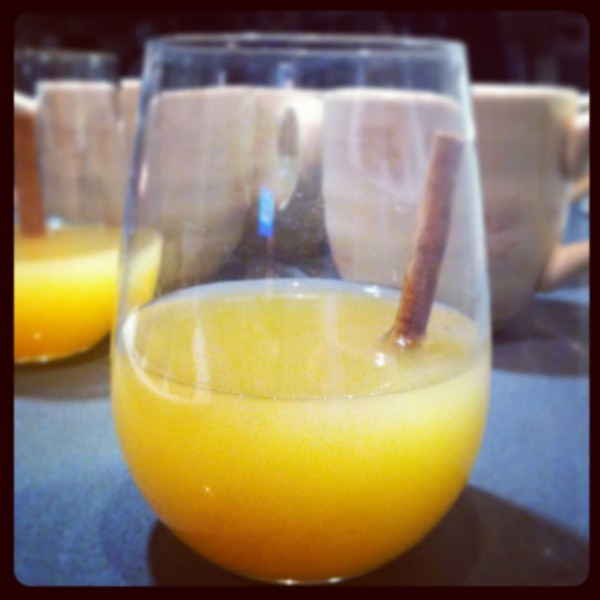 It's been pretty chilly here in California, an extra long winter it seems, and I know everyone on the East Coast has been under lots of snow this week, so I thought something hot would be perfect!
*If you're not of drinking age or don't care for alcoholic beverages omit the rum 🙂
*Make sure you use glasses/mugs meant for hot beverages! I made the mistake of pouring into a nice glass that was too thin for something hot! OOPS!
Ingredients

-5 Cups of Organic Apple Juice
-1/2 Tsp of Cinnamon
-1/3 tsp of nutmeg
-3 ounces of Spiced Rum (Remember, this is optional)
*Cinnamon Sticks to Garnish
Instructions

-Place Apple Juice, Spices, and Rum (if using) in a Pot on the stove over low/medium heat
-Stir often so spices will blend
-Once it is hot pour into mugs and if you'd like, garnish with a Cinnamon Stick (I love the added  taste)
Serving Tip: Use a ladle for serving, if you're hosting a get together & serving this, your guests can use the ladle to serve themselves!
Yield: *this makes only 2-3 servings, so double or triple it if you have several guests
/ tags / Desserts, Drinks, Gluten-Free