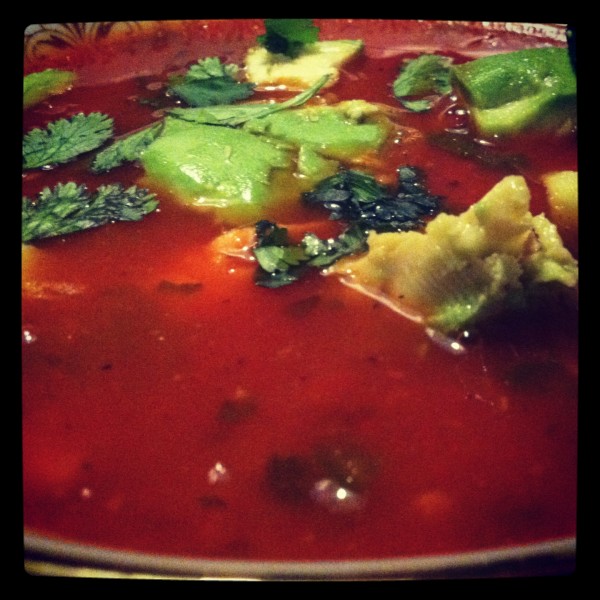 Hot and Healthy, this is a simple soup that will get you all revved up!
Just place all ingredients in your crockpot and come back to it later ready to eat!
Ingredients

-Organic Chicken Breast (Use however much you like, I had about 6 chicken breasts cooking)
-2 tbsp. Coconut oil
-1/4 tsp of ground cumin
-1/4 tsp of garlic powder
-1/4 tsp of Cayenne Pepper
-1/2 tsp of Chili Powder
(You can add or subtract the amount of the seasoning used, this really is to your taste preference)
-1 large Onion diced
-6 cloves garlic, minced (I LOVE garlic)
-2 jalapeno peppers, diced
-1-2 32 oz carton of Gluten Free Chicken Broth (I used about 1 ½ box of broth approx. 6 cups, you can use more or less. I also used the low sodium kind)
-1 28 oz can of fire roasted tomatoes (or regular canned tomatoes)
-Juice of 2 limes
-1 cup cilantro, chopped
Instructions

Easy….
Place ALL of your ingredients in a crock pot, including chicken
You can do this in the morning before you begin your day so that your soup will be ready by the evening.
I cooked mine on high for about 4 hours. All Slow Cookers are different so just make sure that your chicken is done.
If you want to do this over the stove, bake or grill chicken before hand and pour all ingredients into a pot over the stove and get all the flavors mixed together and then add cooked chicken!
Garnish with cilantro and avocado.
VOILA!
/ tags / Appetizers, Dinner, Gluten-Free, Lunch, Main Dishes, Non-Dairy, Side Dishes, Soups