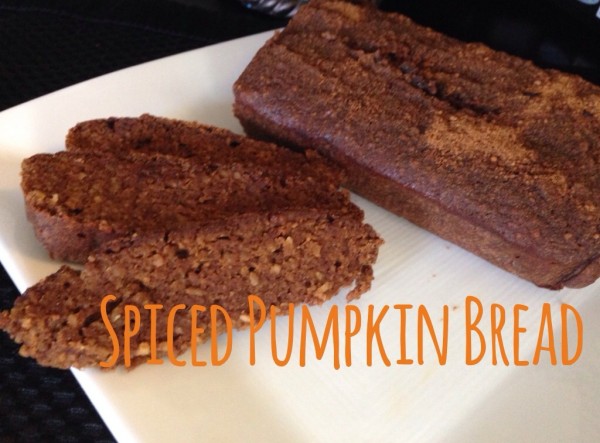 Oh Pumpkin Season, How I love thee. 🙂
This is a super simple recipe, and pretty much guilt-free as it's grain free and lower-glycemic (using the coconut sugar & honey). But be warned, this is a true "spiced" bread and goes perfectly with a hot tea or another hot beverage. If you're not much of a spice fan, I would hold back on some of the nutmeg, ginger, and clove as they give this Pumpkin bread that extra "edge". I also baked my bread in a larger sized bread pan, so when I sliced it it was almost like a biscotti size, just extra moist and chewy.
*Recipe inspired by FoodFanatic
Ingredients

-1 cup Almond Flour
-1/8 tsp of Himalayan Pink Salt
-1/2 tsp Baking Soda
-2 tbsp Coconut Sugar
-2 tbsp Cinnamon
-1 tsp Nutmeg
-1 tsp Ground Cloves
-1 tsp Ground Ginger
-1 tsp All Spice
-1/2 cup Organic Pumpkin Puree (not the pie filling)
-3 Eggs
-3 tbsp Honey (Raw/Organic is the best for you!)
-1 tsp Vanilla Extract
*Optional, you can top the bread mixture with Coconut Sugar and Cinnamon, just mix together a proportioned amount and sprinkle on top before baking
Instructions

-Preheat oven to 350 degrees
-Line your Bread pan with coconut oil/spray, or parchment paper. You can of course use two small foiled pans to create more loaves.
-In a medium sized bowl, mix together the dry ingredients (Almond Flour, spices, salt, baking soda, and coconut sugar) until everything is combined .
-In a small bowl, mix all your wet ingredients (pumpkin, eggs, honey, and vanilla) until all is well combined.
-Combine the two mixtures together completely
-Pour the batter in the bread pan(s) *If you're adding the optional cinnamon and coconut sugar, sprinkle on top now
-Bake for 25-30 minutes, depending on your pan size and your oven you may need more time.
-Serve warm, and any leftovers you have place in refrigerator as this recipe stores much better cold.
*I love eating this Spiced Pumpkin Bread with a drizzle of honey or almond butter.
Enjoy with people you love, something warm to drink, and by the fire side!
/ tags / Breakfast, Desserts, Gluten-Free, Low Glycemic, Snacks