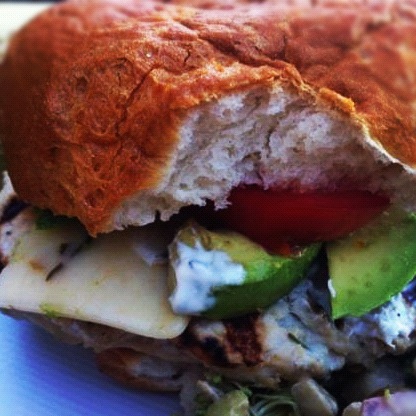 I am a sucker for a good juicy burger, there is nothing better at a BBQ in my opinion. Recently I had some creative juices flowing and was dying to try a creation I came up with that was inspired by the rosemary I've been growing… and oh my goodness, this combination that I came up with was a success and such a hit! And now my mouth is watering just thinking of it…

Your guests at your BBQ will get a kick out of this unique and flavorful burger!
This is a healthy and very tasty choice for your BBQ. Remember to eat in moderation of course!
My personal favorite toppings for this burger: a little greek yogurt aioli (see below), splash of ketchup, arugala, tomatoes, and avocado. Mmmm. So Tasty!
I played with some leftover nonfat greek yogurt to make a "healthier" version of an aioli sauce for a topping and to dip my sweet potato fries in!
Greek Yogurt Aioli:
1/2 cup nonfat greek yogurt
Juice of 1 lemon
2 to 3 cloves of minced garlic (I like a lot of garlic)
sea salt to taste
Mix all ingredients together well and voila!
Ingredients

1 lb ground extra lean organic ground turkey
1/2 cup nonfat greek yogurt
1/4 cup chopped fresh rosemary leaves
1/2 cup finely chopped onion
1 4oz can of diced green chiles *La Victoria is Gluten Free
1 clove garlic minced (I added extra, but I think 1 clove is plenty)
1 tbsp. red pepper flakes
A dash of sea salt and ground pepper to taste
Instructions

-Saute rosemary leaves, chopped onion, diced green chiles, minced garlic, red pepper flakes, and salt and pepper in a saute pan using extra virgin olive oil
-Once everything is sauteed together, combine in a bowl with ground turkey and greek yogurt. Use hands to mix ingredients together well.
-Form into burger patties and place on grill and grill until cooked through.
-Put your burger together using your favorite toppings and your favorite Gluten Free Bun or make it "protein style" wrapping your burger in lettuce
/ tags / Dinner, Gluten-Free, Lunch, Main Dishes