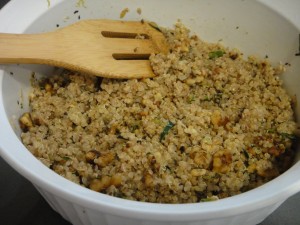 SPRING HAS SPRUNG AND THE BBQ'S HAVE BEGUN!
This past weekend in southern California the sun was shining bright and it was as if we had skipped spring and gone straight to summer! It was BBQ time.
No messing around for this first BBQ of the year, I wanted to make sure we made some healthy choices as we're getting ready for Bikini season!
Ingredients

-1 Cup Cooked Quinoa
-2 Medium Zucchini Grated
-1-2 Cloves of Garlic (or more!)
-1/2 Cup Coarsley Chopped Walnuts
-2 tbsp. Grapeseed Oil
-1 tsp. Thyme Leaves
-1/2 tsp of Sea Salt
-1/4 tsp Ground Pepper
Instructions

-Cook 1 cup of Quinoa separately from other ingredients
-While Quinoa is cooking, grate 2 medium zucchini & slice 1 clove of garlic (keep to the side until instructed to add)
-Heat 2 tbsp. of Grapeseed oil in medium skillet over medium heat – then add 1/2 cup coarsely chopped walnuts to skillet
-Stir walnuts until toasted for about 2 to 3 minutes
-Add the sliced garlic and stir for about 1 minute until golden
-Stir in grated zucchini along with 1 tsp of fresh thyme leaves, 1/2 tsp of salt, & 1/4 tsp of pepper
-Cook and stir until zucchini is tender and other ingredients are well stirred in with walnuts
-Remove from heat and combine with cooked Quinoa in serving dish
-Serve along side your BBQ entree!
/ tags / Dinner, Gluten-Free, Lunch, Side Dishes, Vegetarian