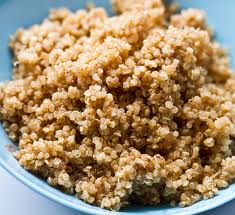 UNCONVENTIONAL QUINOA MAC N' CHEESE
I'm just like most people and have major cravings that just won't go away until I find something that can satisfy me, and I don't agree with completely depriving myself, so I do my best to get CREATIVE WITH CRAVINGS!!
I've created a "unconventional quinoa mac n' cheese" that really hits the spot when craving comfort foods!
Quinoa is naturally gluten free, full of protein, and very tasty!
[youtube]http://youtu.be/-n0Z0Y49wqo[/youtube]
Ingredients

-Cooked Quinoa
-Raw Cheddar Cheese
-Garlic Powder
Instructions

-Cook Quinoa
-Scoop into cup, mug, or small bowl
-Add Cheese
-Pinch of garlic powder
-Stir together and cheese will melt
/ tags / Appetizers, Dinner, Gluten-Free, Lunch, Main Dishes, Side Dishes, Vegetarian