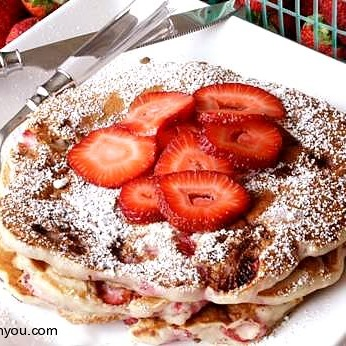 Low Carb, Low Fat, Naturally Gluten Free, and Delicious!

They are easy to make, all you need is about 5 minutes!
Ingredients

1/4 cup egg whites
1 scoop vanilla protein powder (Organic Brown Rice Protein or Whey Protein. Use Whey if you use bananas to avoid combining grains and fruit )
1/2 banana (mashed)
1 tsp cinnamon
1 tbsp flaxseed
Add a handful of fresh or frozen blueberries after the above ingredients are mixed together.
Make sure your protein powder is Gluten Free!
Instructions

Pour into a pan that has been sprayed with coconut oil cooking spray- heat on medium. Cook one side until you see the little bubbles just like cooking any pancake! Flip over (careful!) and cook on the other size until the middle is done (peek inside with a fork). *If the flip is not a success, it still tastes amazing as a protein pancake scramble!
Top with two sliced strawberries and powdered stevia. ENJOY your protein pancakes! 🙂 If you need more carbohydrates, you may add 1-tbs agave on top.
/ tags / Breakfast, Desserts, Gluten-Free, Vegetarian