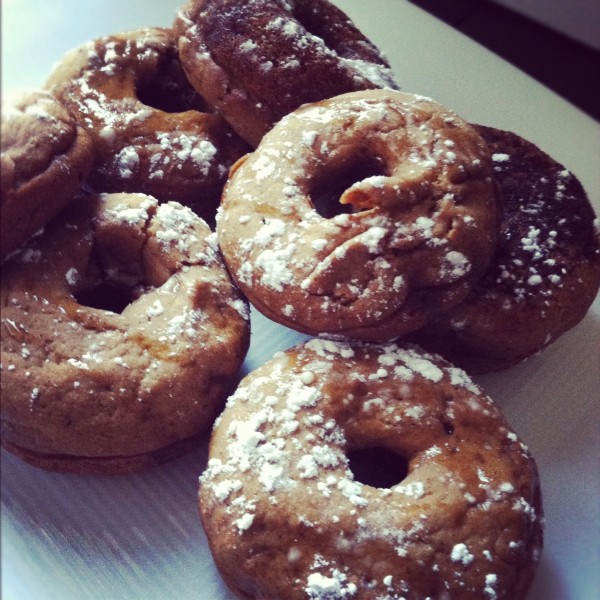 You may be scratching your head wondering, "wait, how is that possible… if those are "protein donuts" that means they must be "healthy"? How is this possible?" Well,  you may have noticed a homemade donut craze, not the old deep-fried donuts, but baked donuts, AND my girlfriends, K & K are brilliant when it comes to making guilty pleasures a healthy option. SO they did this with donuts! Who would've thought?
There is nothing like the fall months and craving comfort food. As the weather cools down (not really in Southern California…yet), I personally crave some hot tea or coffee and a delicious breaded treat. Traditionally, most of those treats aren't the healthiest choices and end up spiking your sugar levels and then making you crash and burn fast. That's not the case with these donuts. When you check out the ingredients you'll see that this is a treat you can enjoy at any time of the day and you won't crash.
We all need something to reach for that feels like a favorite guilty pleasure but actually has nutrients! These donuts can help you recover from workouts, and they're packed with vitamins and protein; and no sugar, no starches and they're Gluten Free (as long as you use a G-Free Protein Powder). Have at it friends, reach for this treat!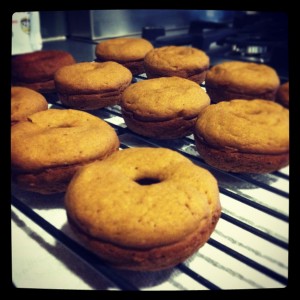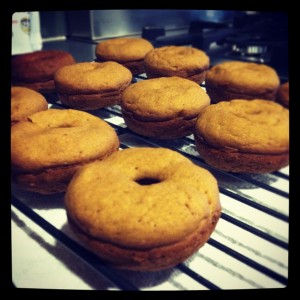 Ingredients

1 cup Gluten Free Brown Rice Protein Powder
1 tsp baking powder
3 tsp Coconut oil
1 tsp vanilla extract
1 cup unsweetened vanilla almond milk (chocolate almond milk for chocolate donuts)
1/3 cups egg whites (Vegan, make 3 flax eggs ~ 2tbs flaxseed meal & 1/4 cup water)
1 tsp stevia
dash of cinnamon
(add 2 tbs cocoa powder if you're making chocolate donuts!)
Instructions

-Mix ingredients together and then place in a donut machine (what K & K used) or a donut pan (like I used)
~Your donut machine and donut pan most likely come with instructions. Just in case your donut pan didn't, these are the instructions I followed:
My pan recommends 425 degrees for 6-7 minutes. I checked mine right before 6 minutes and they were perfect.
-Lightly grease pan with coconut oil.
-Once your donuts have baked you can give them some finishing touches. Here are some options straight from the girls:
*I used Powdered Stevia on mine*
* Honey Glaze Donuts ~ Drizzle with organic honey*
* Cinnamon Sugar ~ Sprinkle donuts with a pinch of cinnamon and crystallized stevia or organic sugar*
*Crazy for Chocolate ~ put 2 tbs cocoa powder in your recipe mix! Top with melted organic dark chocolate*
/ tags / Appetizers, Breakfast, Desserts, Gluten-Free, Low Glycemic, Non-Dairy, Side Dishes, Snacks, Vegetarian