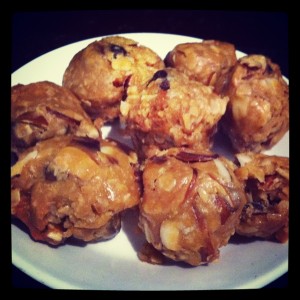 A DELICIOUS DOSE OF PROTEIN
NOTHING MAKES ME HAPPIER THAN A SWEET TREAT THAT HAS THE RIGHT COMBINATION OF NUTRITION.
If you have a sweet tooth like me, have some Peanut Butter Bites on hand. These bites are a little balls of happiness and protein- there couldn't be a better combination. I am always grazing the kitchen looking for something to satisfy that need for a dessert, these bites do the trick! I highly recommend making these while you're traveling too- having these on hand keeps you away from those bad desserts and vending machines! 
Quick Tip: I was in a hurry making my bites so I threw them in the freezer to cool them down, then I rolled them while they were still a little warm and then put them back in the freezer for them to chill quickly!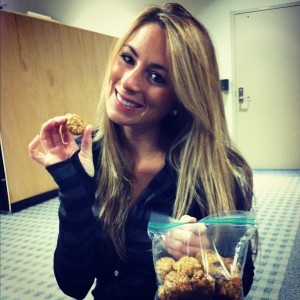 Enjoy this Peanut Butter treat!!!
THIS RECIPE IS EASY…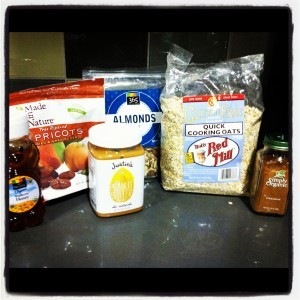 Ingredients

1 cup Organic Peanut Butter (you can also use almond butter!)
1 cup Honey
1 cup Gluten Free Old Fashioned Oats
1 cup Diced Apricots
1 cup Sliced Almonds
Cinnamon to taste (optional)
Instructions

1) In medium size pot, on lowest heat- warm up the Honey & Peanut Butter until texture is runny. You are not cooking it, just mixing around until it is smooth.
2) Mix in diced Apricots, sliced Almonds and Oats
3) Stir until all ingredients are well coated
4) Cool in fridge for at least 45 minutes
5) Roll into small bite sized balls (about 1 tbs)
/ tags / Appetizers, Breakfast, Desserts, Gluten-Free, Non-Dairy, Side Dishes, Snacks