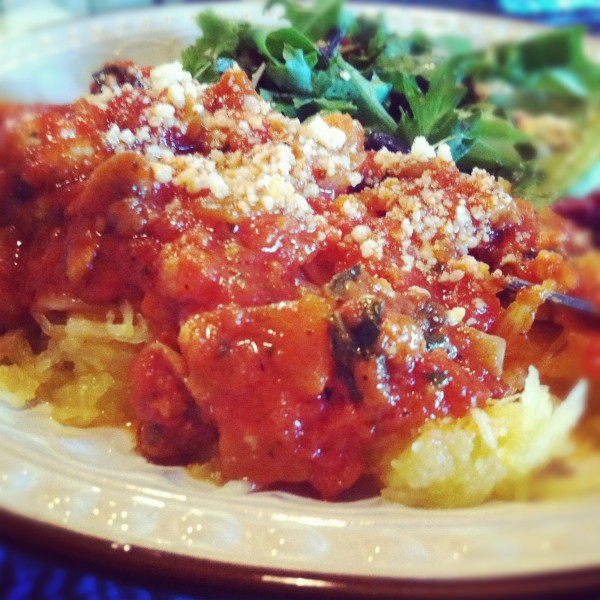 See the picture above? Looks like a delicious spaghetti meal, right? Well, it was delicious, and you can call it spaghetti, but it's not pasta! I made this tasty meal using a spaghetti squash, it's naturally gluten free and great for you. The inside of the squash looks like spaghetti noodles and once cooked they have close to the consistency of pasta noodles. I can have gluten free pasta anytime, but when I spy with my little eye a spaghetti squash at the grocery store I have to take it home with me!
This is how to create your "Pasta-less" spaghetti…
Ingredients

-Spaghetti Squash
-Grapeseed Oil
-Minced Garlic
-Fresh Ground Pepper
Instructions

-Preheat oven to 400 degrees
-Cut Spaghetti Squash in half, long ways
-Scoop out seeds and throw them away
-Spread Grape seed oil, garlic (or garlic salt), and ground pepper on the squash meat (I usually spread this mixture with my hands, massaging into the squash meat)
-Lay the squash rind side down, meat side up on a baking sheet and place in the oven.
-Cook for 45 minutes to 1 hour
-Take a fork and scrape from one end to the other getting all of the meat loose from the rind. You will have noodle like squash being loosened from the rind. Once you have all of your spaghetti loose you can add the sauce of your choice just like you would any pasta dish. An organic tomato based sauce is best.
/ tags / Dinner, Gluten-Free, Grain-Free, Lunch, Main Dishes, Vegetarian