Pancetta & Goat Cheese Pear Bites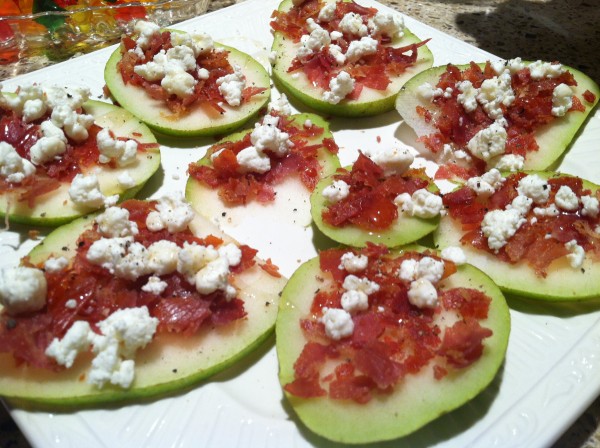 {Inspired by Eat.Drink.Smile}
I Love making this appetizer for parties and gatherings. They're always gone within minutes!
**Vegetarian option: Simple enough, just leave the pancetta off a few of the pears if you'll be hosting a few vegetarians. I have done this before for friends setting the vegetarian version on a separate plate.
Ingredients

-1 Pear
-4-6 Thin slices of Pancetta (Organic is preferred)
-Crumbled Goat Cheese (Organic is preferred)
-Honey
-Fresh Ground Pepper
*I always add a little squeeze of lemon juice to the pear slices to keep them from browning.
Instructions

-Pre-heat oven to 450 degrees
-Line a baking sheet with foil and arrange Pancetta slices on the foil
-Bake Pancetta for about 8-10 minutes. Keep your eye on this, they can get very hot and set some fire alarms off. 😉 (Speaking from experience)
-Remove Pancetta from oven and "blot" with paper towels and let set until it's crispy
-When Pancetta is cooled down slice into small pieces, crumbles
-Slice Pear- I made thin slices from the sides of the pear moving towards the center
-Top each Pear slice with crumbled Pancetta, crumbled Goat Cheese, a drizzle of honey, and sprinkle of fresh ground pepper
Yield: * This Recipe makes plenty for a group of 4-6 People, for larger groups just double or triple the recipe!
/ tags / Appetizers, Gluten-Free, Grain-Free, Side Dishes, Snacks