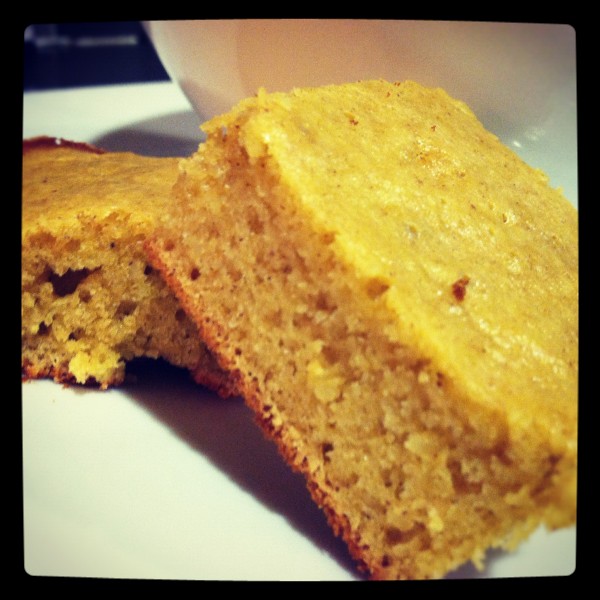 I have recently been eating more "Grain Free" (paleo)  and wanted to find a way to make Cornbread by avoiding corn. You may be scratching your head, but think about it…Almond meal flour mixed with some honey could be the perfect fit in finding our way around using corn based ingredients. What do you know, I found this perfect recipe on Hip2Save, the bread was quick and easy to make and was the exact "cornbread" taste I was looking for… actually, I think it was even a bit better than traditional cornbread.
You're going to love this!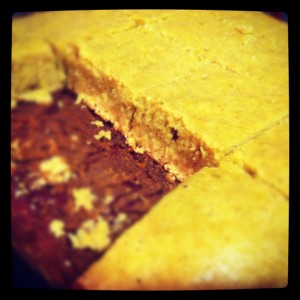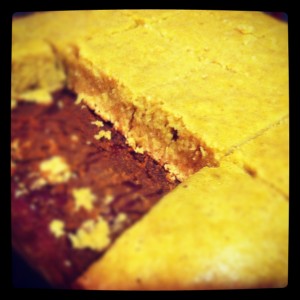 As the cooler weather takes over it's only natural to want to load up on your favorite comfort foods, but learn to do it the right way and head into these fall and winter months feeling confident and healthy!
Ingredients

-1/4 cup almond butter
-2 tablespoons Coconut oil
-3 organic eggs, beaten
-1/2 teaspoon pure vanilla extract (gluten free)
-2 tablespoons organic honey
-packet of Stevia or 1/4 tsp. liquid stevia OR use a little extra honey if you don't have either of these on hand
-1 cup almond flour
-1 teaspoon baking powder
-1/4 teaspoon sea salt
Instructions

-Preheat at 325 degrees
-Melt almond butter with coconut oil in the microwave or over the stove on low heat
-stir in vanilla extract, eggs, honey and Stevia with melted almond butter and coconut oil mixture in a small bowl.
-Mix dry ingredients (almond flour, baking powder, and salt) in a medium size bowl.
-Combine wet ingredients with dry ingredients. Stir well.
-Pour into an 8×8 baking dish/pan greased with coconut oil (or lined with parchment paper)
-Bake for 15-20 minutes or until done- I used the fork in the middle test to make sure it was baked all the way through
/ tags / Breakfast, Dinner, Gluten-Free, Grain-Free, Low Glycemic, Lunch, Non-Dairy, Snacks