Organic Blueberry Muffins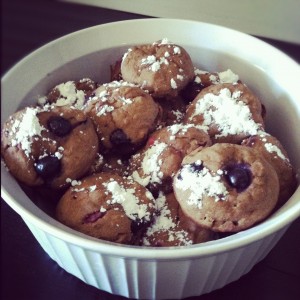 Most Gluten Free Muffin options (or any store bought muffins) are full of sugars and the bad fats. :/ Yes, those store bought baked goods are okay to fix a craving every once in awhile, but this recipe has saved the day for me and I actually prefer it! 
TREAT YOURSELF TO A MUFFIN WITH YOUR MORNING COFFEE OR FOR A MID-MORNING "PICK ME UP"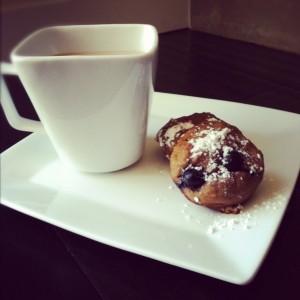 Ingredients

-1 1/2 cups Egg Whites
-2 1/2 cups Vanilla Whey or Veggie Protein- I prefer Goats whey (I would suggest Brown Rice Protein but I try to avoid combining grains & fruit)
-3 tbsp. Walnuts, crushed
-2 tbsp. Ground Flaxseed
-3 tbsp. Almond Milk, unsweetened
-1/2 cup of Blueberries
-2 tbsp. Water
-1 Banana, mashed
-1/4 cup Applesauce, no sugar added (organic)
-2 tbsp. Coconut Oil
-1 1/2 tbsp. Cinnamon
-3 tsp. Baking Powder
-Pinch of Sea Salt
*This recipe would be great with any berry full of antioxidants, I actually used raspberries and blueberries!*
Instructions

Combine ingredients in large mixing bowl. Mix well. Stir 1/2 cup blueberries into mixture.
Spray muffin tins with non-stick (olive oil) cooking spray. Pour mixture into muffin tins.
Bake at 350 degrees for 15 minutes or until middle is cooked- tooth pick clean.
Top with powdered stevia!
/ tags / Appetizers, Breakfast, Desserts, Gluten-Free, Side Dishes, Snacks, Vegetarian