Mixed Greens & Mushroom Saute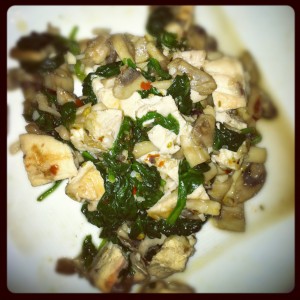 A HEALTHY AND NATURALLY GLUTEN FREE DINNER (OR LUNCH) THAT IS FULL OF FLAVOR AND PACKED WITH NUTRIENTS!
 I usually am not crazy about sauteed greens, as in I REALLY do NOT like sauteed greens. BUT as soon as I took a bite of this amazing sauteed meal I was in love. This recipe is a new favorite that I will make on a weekly basis now and the fact that it was so simple to throw together makes it even better!
*I Paired Chicken with this dish, but remember this can be served as a vegetarian meal with any other proteins.
Ingredients

– About 6 cups Mixed Greens (baby red chard, baby tat soi, baby spinach, baby green swiss chard, baby arugula) *I used a 5 oz. mix, but you could use lots more*
-1 cup mushrooms, sliced
-1/4 cup Grape Seed Oil
-3 cloves garlic, minced
-1 tsp dried oregano
-1/2 tsp crushed red pepper flakes
-1 grilled organic chicken breast, chopped (Or any other choice of Protein)
-1/2 tbsp. Coconut Oil
-fresh grated parmesan cheese (I used just a pinch)
-Himalayan Pink salt and Fresh Ground Pepper to taste
Instructions

-grill chicken, chop and put to the side
-prepare your olive oil in a saute pan over warm heat
-saute garlic, oregano, red pepper flakes, and mushrooms in your Grape Seed Oil
-add your mixed greens and cook until wilted
-add chicken and Coconut oil, toss well and stir in cheese
-add salt and pepper to taste
/ tags / Appetizers, Dinner, Gluten-Free, Grain-Free, Lunch, Main Dishes, Side Dishes, Vegetarian, Veggies