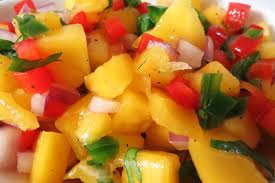 Everyone Loves a Good Salsa!
Ingredients

1/2 Ripe Mango
-3 Tbsp. Onions
-1 tsp. Jalapeno (I didn't have any and my salsa was still spectacular)
-3 Tbsp. Chopped Cilantro
-1 lemon squeezed
Instructions

Chop & Mix! Simple as that. Use to add to Chicken Dinners, wraps, or use as a dip! Use Blue Corn Chips for dipping for a lower glycemic choice.
Yield: Recipe is for 1-2 servings, double to make more!
/ tags / Appetizers, Gluten-Free, Grain-Free, Non-Dairy, Side Dishes, Snacks, Vegetarian