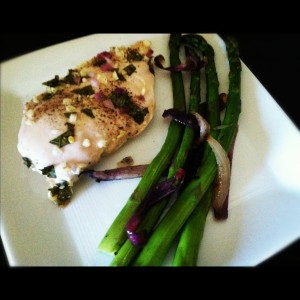 Recipe from TIU Nutrition Plan
Ingredients

4 oz Lean Boneless, Skinless, Chicken Breast
1 Lemon, squeezed
2 Garlic cloves, finely chopped
1/2 tsp. Sea Salt
1/2 tsp. Black Pepper
1/2 tsp. Fresh Basil, finely chopped
2 Scallions, finely chopped
Instructions

Half an hour before you plan to start cooking place chicken breast(s) in a dish with lemon juice, garlic, basil, scallions/onions, salt and pepper.
Cover with plastic wrap and allow to chill while chicken marinades.
Remove from plastic wrap and bake in oven safe dish with marinade for 30 minutes at 300 degrees or until fully cooked.
/ tags / Dinner, Gluten-Free, Grain-Free, Lunch, Main Dishes, Non-Dairy