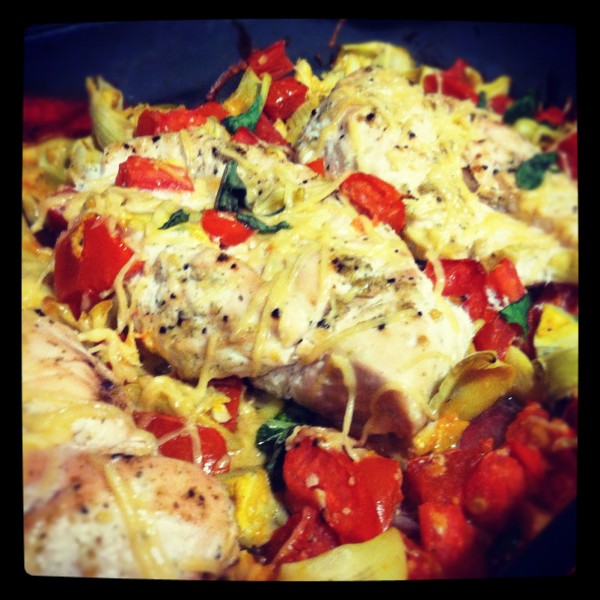 A simple meal to fill your belly and satisfy your tastebuds. This recipe is safe for the waistline too, keeping you on track with living a healthy lifestyle.
This recipe was inspired by one I saw floating around on pinterest. I've made some healthier changes to the recipe so you can keep feeling like a "Beach Babe".

This meal is perfect for a busy family. All you do is mix all of your ingredients together and put it in the oven- and your oven does all the work. I love meals like these where I can put dinner in the oven. Simple meals like this allow me to get extra work done, relax, or even do a quick video workout!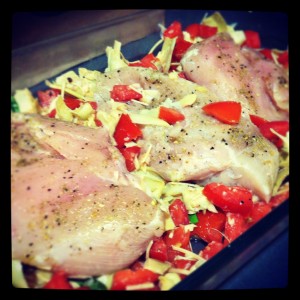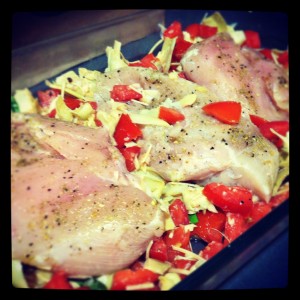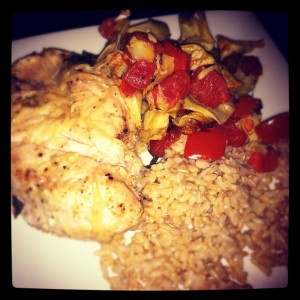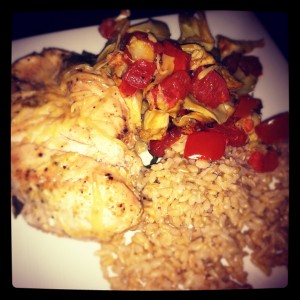 Ingredients

4-5 diced roma tomatoes
Can of artichokes
2-3 (or more) chopped cloves of garlic
Stevia (1/2-whole packet)
Grapeseed Oil
Sea Salt and fresh ground black pepper
Chicken breasts
Shredded Parmesan
Chopped basil
Instructions

-Preheat oven to 350 degrees
-Dice about 4-5 Roma Tomatoes and place in a mixing bowl
-Add a can of drained artichokes to the bowl
-Thinly chop 2-3 cloves of garlic (I love garlic, so the more the merrier in mine!) Add chopped garlic to the bowl as well
-Add a dash of stevia (a half of a packet is perfect)
-Pour a tbsp. of Grapeseed Oil in the bowl
-Add sea salt and fresh ground pepper to the ingredients in the bowl (to taste)
-Stir all ingredients together in the bowl to get everything mixed together well
-Place the tomato, garlic, artichoke mixture into a oven safe casserole dish
-Place chicken breasts in casserole dish with the tomato mixture
-Season chicken breast with Sea Salt & Fresh Ground Pepper or Mrs. Dash
-Place casserole dish with Chicken and mixture into the oven
-Bake chicken for about 35-40 minutes *The size of your chicken breasts may change your bake time
-Just a few minutes before your chicken is done, spread a little shredded Parmesan cheese on top
-Remove from the oven when chicken is completely cooked and sprinkle fresh cut basil to the top
-ENJOY your very simple dinner with some brown rice, Gluten Free Brown Rice pasta, quinoa, or Spaghetti Squash.
/ tags / Dinner, Gluten-Free, Grain-Free, Lunch, Main Dishes