Ground Turkey Stuffed Peppers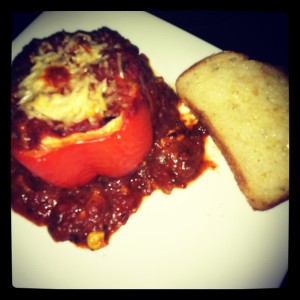 This is my favorite meal. Mmmm… mmm… good.
If you're looking for a meal to last a few days or feed more than two people this is a great "go to" meal for hosting a dinner or for feeding your family. Of course it's tasty but it's colorful too, and I am one that believes that presentation is half of the taste.
A few plus sides to this recipe, it can easily be gluten free choosing your ingredients wisely AND it's pretty healthy and nutritious! It's like getting to have a lasagna minus all of the noodles and less cheese that makes it yummy but healthier, right?!
Give this meal a shot, I cannot wait to hear how much you love it too!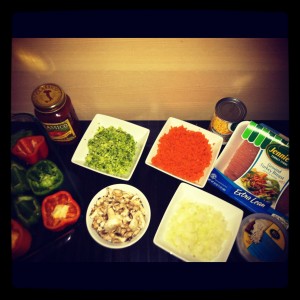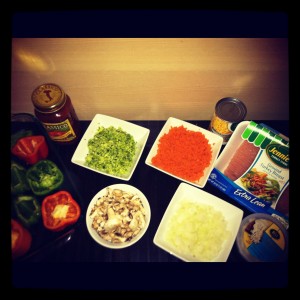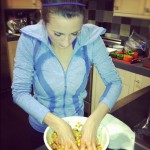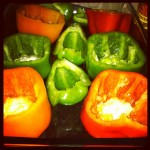 Ingredients

Bell Peppers (red, yellow, orange, or green)
1 tbsp Grape Seed Oil
1 lb Mushrooms sliced
1 Onion, diced
1 lb Gluten Free Organic Ground Turkey
1 egg
1 Zucchini, shredded
1 Carrot, shredded
1 Can of Corn
1 cup Feta Cheese (or any other cheese you prefer)
Gluten Free Organic Marinara sauce- 2 jars usually does the trick!
Parmesan Cheese for garnish
Instructions

-Pre-heat the oven to 375 degrees F.
-In a saute pan, add 1 tbsp. of grape seed oil over medium-high heat.
-Add the mushrooms and onions and saute until lightly browned.
-Mix ground turkey, egg, zucchini, carrot, corn, feta cheese together in a bowl.
-Stir the sauteed mushrooms and onions into this mixture. (I usually get my hands dirty and use my hands to mix everything together well!)
-In a large glass-baking dish, line the bottom with marinara sauce.
-Slice the bell peppers in half, clean out core and seeds and place in the baking dish.
-Stuff the mixture into the peppers.
-Drizzle remaining marinara sauce on top of stuffed peppers.
-Cook for 30 minutes. Remove from oven and sprinkle Parmesan on top of peppers.
-Cook an additional 10-15 minutes until the cheese melts and is golden brown.
-Cut open to make sure the peppers are fully cooked.
/ tags / Dinner, Gluten-Free, Grain-Free, Main Dishes