Grain Free Maple Pumpkin Donuts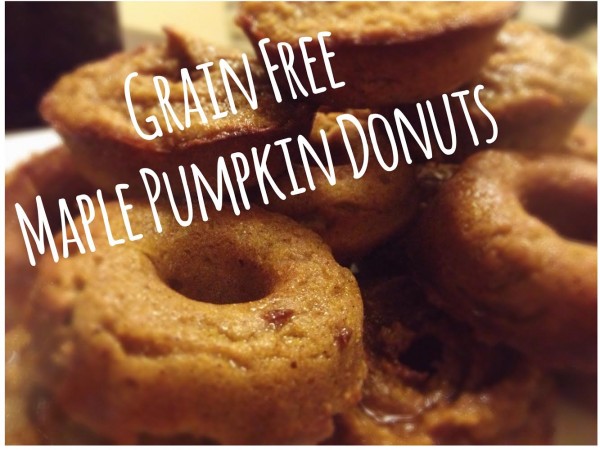 Bring on the Pumpkin Everything! Pumpkin is full of so many nutritional benefits, and it's great to add to anything… sweet or savory! But my favorite thing to do is make tasty baked goodies around the fall and winter months. (Although, pumpkin is incredibly nutritious all year round) Bake up these easy Grain Free Maple Pumpkin Donuts for a delicious and nearly guilt free side to your morning coffee, breakfast, or a fun treat. Being grain free makes these donuts gluten free too. All you need to do is buy a donut pan, mix up your ingredients, pop them in the oven, and voila! Your Donuts are done! For Icing/Glaze, I created my own on a whim, but you can do so many different things to top your donuts. Drizzle with organic raw Honey, caramel, chocolate– totally up to you! I went for more of the maple taste and kept it pretty clean compared to the over processed sugary options.  You can also add toppings like chopped pecans, slivered almonds, coconut or chocolate shavings. Be creative!
Ingredients

Donuts:
3 eggs (Pastured is all I use!)
1 cup Organic Pumpkin Puree
½ cup Coconut Sugar
2.5 cups Almond Flour
3 tsp Baking Powder
2 tsp Pumpkin Pie Spice
1 tsp Vanilla extract (gluten Free)
1 tbsp Maple Syrup
3 tbsp melted non-refined Coconut Oil
1/8 tsp salt
Maple Glaze:
3 tbsp melted coconut oil
3 tbsp maple syrup
Sprinkle in Ground Cinnamon (to your taste)
*Mix these ingredients together, dip the face of your donuts in this mixture and put on a cooling rack or on wax paper.
Instructions

Preheat oven to 350F.
Use coconut oil to grease the pan. I keep a coconut oil spray on hand for this. Make sure to coat well as these donuts could stick and become tricky! 😉
Combine eggs with your pumpkin puree using a mixer. Combine until nice and smooth.
Add melted coconut oil, maple syrup, and pumpkin spice
Add coconut sugar, almond flour, baking powder and salt. Mix thoroughly!
Bake for 12-18 minutes — depending on your donut pan it will be different for everyone, so keep a close eye on these!
Let cool before removing donuts.
Add your glaze/icing/toppings and set on a cooling wrack or wax/parchment paper to set.
ENJOY!!!
/ tags / Breakfast, Desserts, Gluten-Free, Grain-Free, Low Glycemic, Snacks, Vegetarian