Grain Free Banana Nut Muffins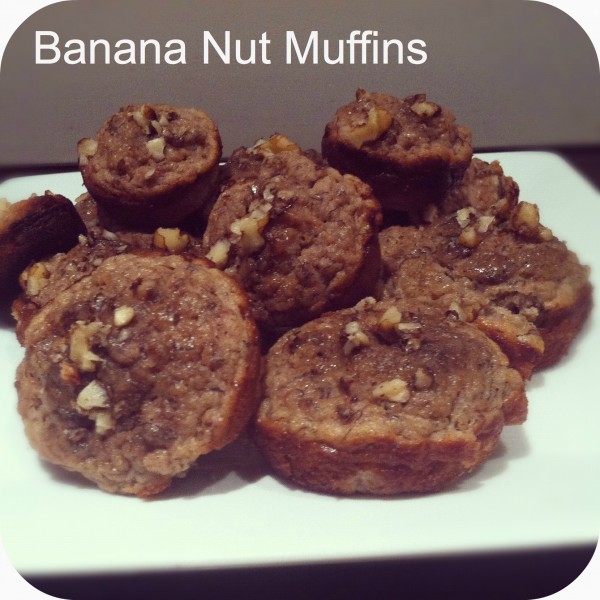 There is this great little coffee shop by me that serves gluten free banana nut muffins that are melt in your mouth crazy good. They are super addicting and definitely a cheat treat. A splurge every once in a while– I'm all for it, but I was losing my "in moderation mentality". So one day, after I had found an excuse to pick up one of these addicting muffins every other day of that week, I decided that I could create a "better for me" version at home, I was going to have to or else I would start wearing that muffin top soon around my waist. 😉
The "melt in your mouth" muffin from the coffee shop inspired an afternoon in the kitchen. All that I had known about the muffins in the first place was that they were made with coconut oil rather than butter (the barista told me this to try to ease the guilt of the addiction one day). It gave me a place to start. I knew I wanted to make these muffins as organic as possible, obviously gluten free, and I thought, what the heck, these should be paleo too!
With the inspiration from the coffee shop muffins and a few other recipes I had seen I created this magical and moist Banana Nut Muffin that is sooo unbelievably good. I feel really good about the ingredients used too, you'll see… and you'll know the goodness when you try them!
What makes these Banana Nut Muffins "good for me"?
The coconut flour is rich in dietary fiber, supporting your digestive system, heart health, and immune system. Coconut Flour is also high in protein. The bananas are also nutrition packed with  Dietary Fiber, Vitamin C, Potassium Manganese, and a great source of Vitamin B6. To top things off, coconut oil used instead of butter is giving you great nutritional value as well- it's crazy "good for you"!
Ingredients

3 ripe large bananas, mashed (you can use 2 if you're not crazy for bananas)
6 eggs
1 tbsp pure vanilla extract
4 tbsp coconut oil, melted
1 tbsp 100% maple syrup
1/2 cup coconut flour, sifted
1/2 tsp baking soda
1/2 tsp sea salt
1 tsp cinnamon
1/2 cup finely chopped walnuts
Instructions

-Preheat oven to 350
-Mash bananas and then add eggs, vanilla, melted coconut oil, and maple syrup in a large mixing bowl and whisk ingredients together
-In a separate small bowl mix together coconut flour, baking soda, salt and cinnamon
-Add the dry ingredients to wet ingredients and mix until you have a smooth mixture
-Mix in nuts leaving some nuts behind for topping
-Pour mixture into greased muffin tins or cupcake liners in the muffin tins, fill muffin cups 3/4 full
*I used coconut oil to grease my muffin tins since I didn't have any paper liners. I also used regular size muffin tins, and mini muffin tins!*
-Before you place muffins in the oven, sprinkle leftover chhopped nuts on top of batter for a topping
-Bake for approximately 15 minutes until golden brown – use a toothpick to check if finished baking
*shorter cooking time for mini muffins*
/ tags / Appetizers, Breakfast, Desserts, Gluten-Free, Grain-Free, Side Dishes, Snacks, Vegetarian