Grain-Free Almond Butter Blondies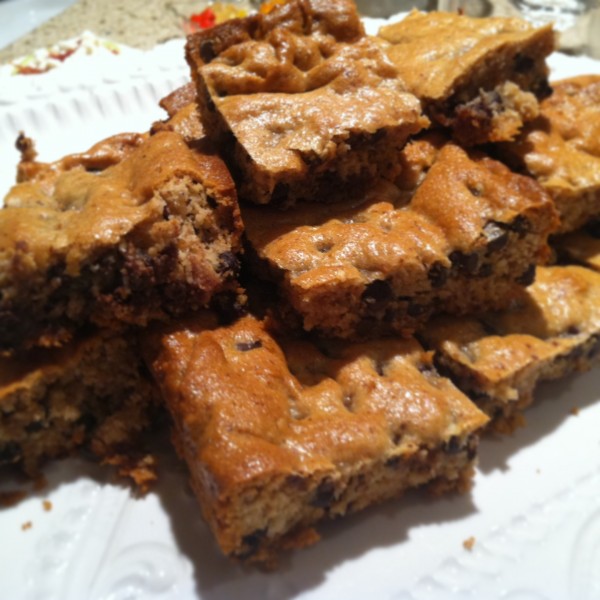 Oh, Friends, you know how much I love a good sweet treat. The best part of these as that they're grain-free and that they contain a low-glycemic sweetener but they still taste amazing!
I can't wait to hear how much you love these, they're very allergy friendly so a great treat to bring with you to "get togethers".
Ingredients

-1/4 cup melted Coconut Oil
-1/3 cup Organic Coconut Palm Sugar (Coconut Sugar is an excellent low glycemic sweetener option. You can use Honey as your sweetener if you're unfamiliar with coconut sugar)
-1/4 cup Raw Organic Almond Butter
-1 egg
1-/2 tsp. Gluten Free Vanilla
-1 1/4 cup Almond Meal/Flour
-1/8 tsp. baking soda
-1/2 tsp. baking powder
-1/4 tsp. salt
-Your choice of chocolate chip baking chips. I prefer using Dark Chocolate Chunks or Dairy Free Chocolate Chips. *Usually I love extra chocolate, but in this recipe I think less is more! **The Dairy Free Chips make this treat even more allergy friendly. 😉
Instructions

-Preheat oven to 350 degrees
-Grease a square baking dish w/ coconut oil or parchment paper
-Mix melted coconut oil, coconut sugar, almond butter, egg, and vanilla in a small bowl with kitchen-aid or hand mixer. Mix well.
-Combine almond flour, baking powder, baking soda and salt in a medium bowl and mix together well with a fork.
-Pour dry ingredients into wet ingredients and mix well with the mixer.
-Mix in your choice of chocolate chips/chunks and spread batter in greased pan (grease with coconut oil).
-Bake at 350 degrees for 15-20 minutes or until toothpick comes out of center clean. Edges will start to turn golden brown.
/ tags / Desserts, Gluten-Free, Grain-Free, Low Glycemic, Snacks