Gluten Free Turkey Meatballs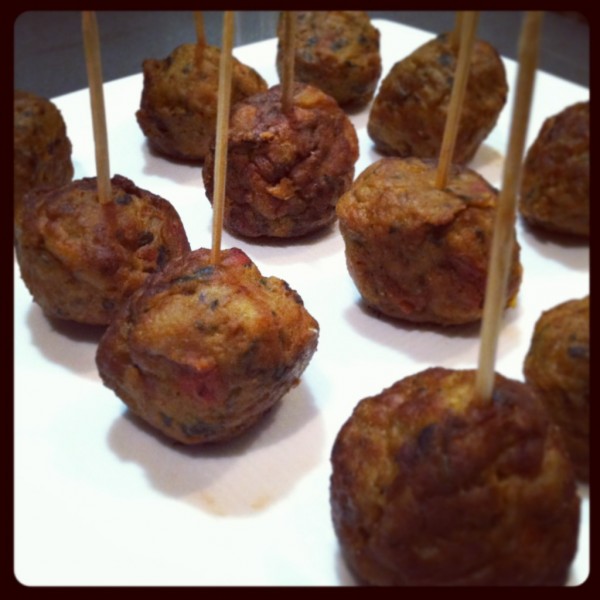 {Inspired by What's That Smell}
These meatballs are perfect for a get together or for a meal, maybe even a "grab & go" meal. They're  fairly easy to make and serve! For serving, especially when hosting a party and serving these bites of protein, just poke a toothpick into each one!
This originally recipe called for Grass Fed Ground Beef, but I prefer organic ground turkey. Use what you like, the ingredients are the same besides that!
Ingredients

-1 lb organic ground Turkey (white meat is my preference) *Original recipe calls for 1 lb Grass Fed Ground Beef, but I prefer turkey
-1 egg
-1 tbsp coconut oil
-2 tbsp coconut flour
-½ teaspoon black pepper
-1 small onion finely chopped or 2 tbsp minced onion- I prefer the fresh onion
-1 tbsp paprika
-½ tsp cinnamon
-2 tbsp dried parsley
-1½ tbsp dried cilantro
*Original recipe recommends ⅛ – ¼ teaspoon cayenne pepper for an extra kick! (I didn't try this, so you'll have to tell me!)
Instructions

-Preheat oven to 425 degrees F
-Saute chopped onions in a pan with coconut oil for 1-2 minutes
-In a medium bowl combine the ground turkey with all of the spices until completely mixed. I used my hands for this.
-Whisk egg in a separate bowl and then mix into the turkey/spice mixture.
-Then add the sautéed onions to the mixture
-Combine everything thoroughly (again, with hands works best)
-Grease a cookie sheet or casserole dish with grapeseed oil or coconut oil. You can also use the spray of either of these oils if it's easier.
-Roll turkey mixture into balls depending upon the size you prefer and place in dish or on pan
-Bake for around 25-30 minutes until thoroughly cooked
/ tags / Appetizers, Dinner, Gluten-Free, Grain-Free, Lunch, Main Dishes, Snacks