Cinnamon Sugar Greek Yogurt & Apples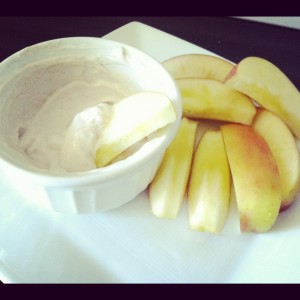 HERE'S A SUPER SIMPLE "GO TO" SNACK FOR YA! IT'S A FAVORITE OF MINE BECAUSE IT'S SIMPLE, HEALTHY, PACKED WITH PROTEIN, AND NATURALLY G-FREE!!
***

This snack is perfect to take with you to work or to an outing. Just take your Greek Yogurt mix (ingredients below) with you in a sealed container, and apples in a plastic baggy. To keep your apples from browning squeeze a little lemon on your apples!
I also recommend putting this tasty treat out at a get together or party. In the past I have used a cream cheese frosting dip or caramel for apples when I've hosted parties, BUT this is much "better for you" spin on a great treat to have out for your guests! Your guests will thank you for this healthy dose of goodness!
*again, to save your Apples from browning squeeze lemon juice on them. If you're hosting a party and putting apples out, cut apples and place in container or a large freezer bag, squeeze the lemon juice and shake up your apples!
Ingredients

-Greek Yogurt
-Cinnamon
-Packet of Organic Stevia
Instructions

-Spoon your chosen amount of Non-fat Greek Yogurt into a bowl.
-Sprinkle cinnamon into the yogurt, then add a packet of stevia and stir all together
-Cut your apples and dip in the cinnamon/sugar Greek yogurt mix!!
THAT'S ALL IT TAKES, SO SIMPLE!!
/ tags / Appetizers, Breakfast, Desserts, Gluten-Free, Grain-Free, Snacks, Vegetarian