Chocolate Almond Butter Balls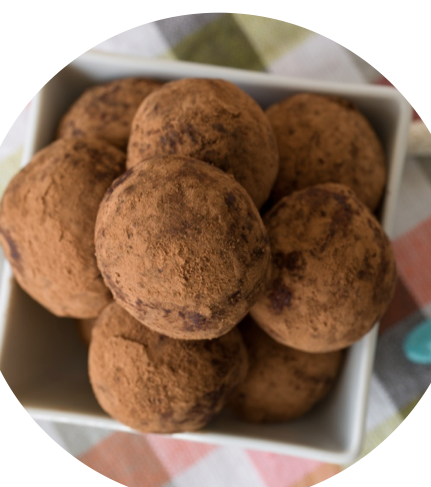 Moni, my friends! That's "Hello" in Chichewa, the language of Malawi Africa!
I'm currently sitting on a plane on my first leg of many long flights to get to Malawi to work at an orphanage alongside Kusewera, an awesome organization I've supported for the last 3 years… and now I'm going with them to experience everything that Kusewera is all about! If you follow me on instagram, twitter, or facebook you probably now how excited I am for this trip and opportunity. I really do believe that God is going to do some great things on this trip and I'm going with an open heart and mind, I can't wait!
I'm so excited for this experience, BUT… yes, there is a "but"… I will be traveling a total of 30 + hours. Oy ve! 1) I do not sit still well, I need to move or I need to be able to "sprawl". These ol' dancer hips of mine get very uncomfortable, so it's going to be a challenging next day(s) in that aspect. 2) As most all of you know, I'm severely gluten intolerant and treat myself like a celiac, and food gets extremely tricky when traveling! Don't you worry though, I planned ahead. I ALWAYS pack snacks when traveling. I always have a variety and this time around I tried a new recipe, TIU's Chocolate-Almond Butter Balls! These have been the perfect travel snacks to have on hand while everyone else was stocking up on their coffee shop pastries and such. Not only would I be supplying myself with something delicious, but it's a healthy option too with excellent nutritious benefits… oh, and I love rubbing off my healthy eating tricks on others, so I have no doubt the team I'm traveling with to Malawi will be hooked and begging for more!
Let's get to this recipe, shall we? Or should I just tempt you some more with this very decadent combination?! 😉 We all love chocolate, right? And some creamy and delicious almond butter?! Oh yes, yum! Now this is your warning, follow directions closely, because I messed up and ended up with something absolutely tasty, but not exactly what it was supposed to be. Oops. haha. At least it was still edible and yummy.
You're going to LOVE this…
Ingredients

1⁄3 cup almond butter
1⁄3 cup honey
1 tsp. salt
1 1⁄2 Tbs. Perfect Fit Protein Powder/Brown Rice Protein Powder
1⁄4 tsp. cinnamon
2 Tbs. coconut oil
1 cup hemp seeds
1⁄2 cup cacao powder
Instructions

Slowly heat the coconut oil in double boiler, or metal bowl on top of a hot pot of water. (My coconut oil was practically melted so I just put it in a pot on low heat for a few minutes)
In large bowl, mix together the butter, honey, salt, Perfect Fit and cinnamon.
Add melted oil and stir to incorporate thoroughly.
Mix in hemp seeds until well blended.
Place mixture in the fridge to set for 30 minutes. Roll into 1 inch balls. Then roll in cacao powder. (This is the part I missed, I put the cacao in the mix…oops!)
And that's how it's done my friends. Make these beauties and take them with you wherever you go.
They are currently headed with me to Malawi, but guaranteed they'll only make it half way there!
The most important part… Enjoy!
/ tags / Gluten-Free, Snacks, Vegetarian