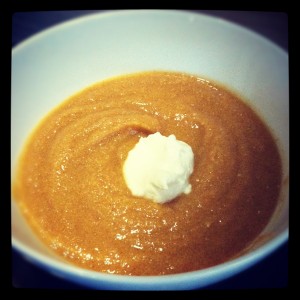 This is the perfect healthy and delicious soup for a winter evening. It is so simple with very few ingredients it makes this meal nice and affordable and you know it's good for you, and naturally gluten free (which is important to me)!
By the way, this soup will make your home smell amazing!!
Ingredients

-1 Butternut Squash (peeled and diced- you can also buy it pre-sliced)
-1 Apple (peeled and diced)
-1/2 cup plain Greek Yogurt
-1/2 tsp. Cumin (or to taste)
-1/2 tsp. Cinnamon (or to taste)
Instructions

-Boil a couple cups of water
-Add Butternut Squash and Apples into boiling water- boil until fully cooked and soft
-Remove squash and apples from heat and place in blender
-Puree squash, apples, and greek yogurt in blender
-Pour pureed mixture into a saucepan and heat on low while stirring in spices
-When your soup reaches the desired temperature and taste it's ready to eat!
*I added a little greek yogurt for garnish and extra taste*
/ tags / Appetizers, Dinner, Gluten-Free, Grain-Free, Lunch, Main Dishes, Side Dishes, Soups, Vegetarian