Berry Delicious Protein Shake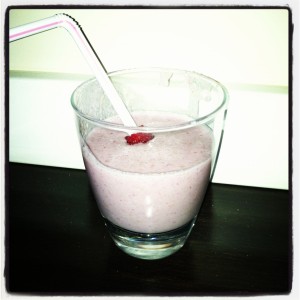 I've been making a lot of smoothies lately, because sadly my boyfriend had to have an emergency neck/spinal surgery which has required a lot of TLC and nutrient filled smoothies.
I knew as soon as we came home from the hospital I would be helping my man recover by giving him the best of the best to keep him healthy and feeling good. I also knew that keeping myself healthy was important so that I could keep up with my duties of playing "nurse". It was time to say hello to as many nutrients as possible and the best way I knew how to do so was by way of smoothies and protein shakes!
Ingredients

1 Gluten Free Whey Protein Powder (I avoid Rice Proteins when working with Fruit, to avoid combining fruit and grains)
1 tsp flax seed
2/3 cup Unsweetened Vanilla Almond Milk
1/2 Banana, frozen, sliced (I didn't have a frozen one, and it was still tasty)
1/2 cup Berries (Blueberries, Raspberries, Strawberries, Blackberries… Antioxidants!)
Ice is optional
Instructions

Place all ingredients in a blender or food processor, mix until smooth. Enjoy!
Yield: Makes 1 Serving
/ tags / Appetizers, Breakfast, Desserts, Drinks, Gluten-Free, Snacks, Vegetarian