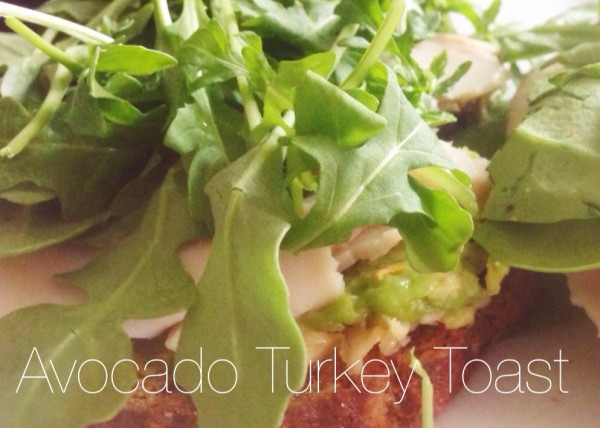 This Avocado Turkey toast will blow your mind. I love the simplicity of it too!
Here you have it, a simple, tasty, and healthy breakfast… but you could eat it for lunch or dinner too! 😉
Ingredients

Paleo/Grain Free Bread (I buy Julian Bakery bread)
Ghee (Clarified Butter)
Chopped Garlic
Avocado
Organic Turkey
Organic Leafy Greens (I used Spinach and Arugula in this picture)
Himalayan Pink Salt
Fresh Ground Black Pepper
Crushed Red Pepper Flakes *Optional for some heat!
Instructions

preheat oven to 350 degrees
top toast with some ghee and your chopped garlic
toast in oven until it looks ready
add your avocado
sprinkle with himalayan pink salt, pepper, and crushed red pepper flakes (*All optional, and to taste)
add your organic turkey (or turkey bacon, sausage, egg, or other form of protein)
top with tons of leafy greens!!!
/ tags / Breakfast, Dinner, Gluten-Free, Grain-Free, Low Glycemic, Lunch, Main Dishes, Snacks