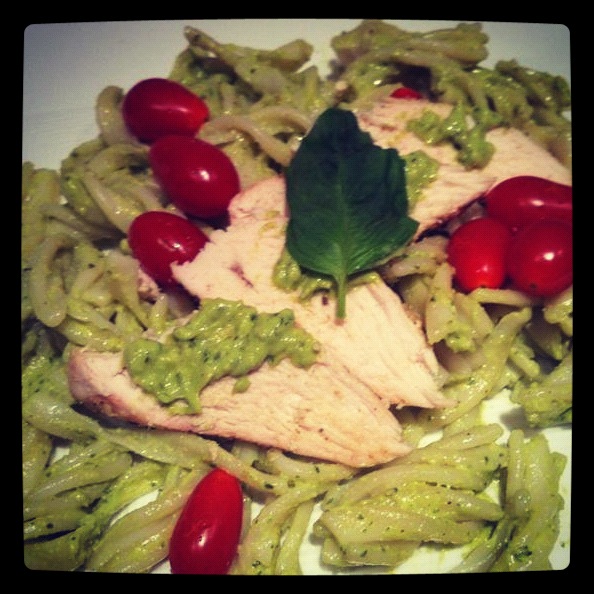 Thinking of an avocado pesto is probably one of my most brilliant moments in life. I know, I know, I didn't discover this or "invent" it, but I didn't know that it even existed until the moment I was daydreaming about a summer pesto and googled "avocado pesto". So for the record, the idea I had was brilliant, but someone else was a genius! I found several recipes that inspired me to create something that was so tasty, delicious, refreshing, and light! Pesto can tend to be creamy and heavy leaving you with a great taste in your mouth but a gut that is very unhappy with you. Using the avocado creates the right creaminess and making it so fresh and giving you a meal with "good fats" rather than the bad ones.
Get ready for this delicious summer pesto, I'm pretty sure it will rock your world!
Oh, and by the way, this is of course another easy recipe, you should know that about me by now. 😉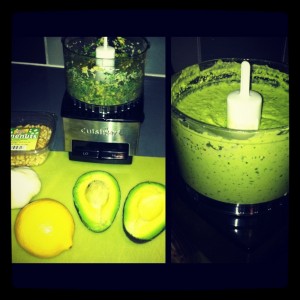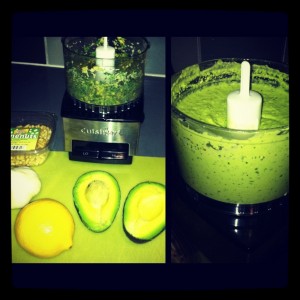 Here are some ways I love to serve this Avocado Pesto:
-Serve this zingy avocado pesto sauce on top of spaghetti squash for a "pasta-less" meal, making your meal super lean, clean, and green
OR
-Serve with cooked Organic Brown Rice Pasta
-Cook your choice of protein: chicken, shrimp, etc. and add to your pesto meal. *I cooked chicken with some Mrs. Dash Garlic & Herb*
-Add some fresh tomatoes or sun dried tomatoes to add color and extra flavor
*When serving, I found that it was easy to mix this pesto in a bowl with my pasta or spaghetti squash until all was covered in green, then I served up the serving on a plate and placed the protein and tomatoes on top*
-Garnish with a basil leaf and maybe a little Parmesan (If Dairy Free isn't a must)
-The opportunites with this pesto are endless, I was dipping tomatoes in it all night long!
Another recipe you will love me for! 😉
Ingredients

1 cup (equivalent to 1 bunch) basil leaves & a little extra for garnish if you so desire
1/2 cup pine nuts (1/4 cup will do too if you like it less nutty)
1 avocado pitted and peeled
2 tbsp. lemon juice (I used the juice of 2 lemons)
3 cloves garlic
1/4 cup olive oil
sea salt & black pepper to taste
cherry/grape tomatoes or even sundried tomatoes! *optional*
Instructions

Combine basil, pine nuts, avocado, lemon juice, oil, and garlic in a food processor and combine.
*I did a few ingredients at a time to make sure my little chopper/processor could hand the work, but this allowed me to taste test and make sure I was getting the right taste. You can use a vitamin or BlendTec to blend as well.
When the mixture is combined well and looking creamy, season with sea salt and pepper to taste and mix together one more time
Set in the fridge for a half hour to an hour to let flavors set in
/ tags / Appetizers, Dinner, Gluten-Free, Grain-Free, Lunch, Main Dishes, Non-Dairy, Side Dishes, Snacks, Vegetarian