Avocado Lime Deviled Eggs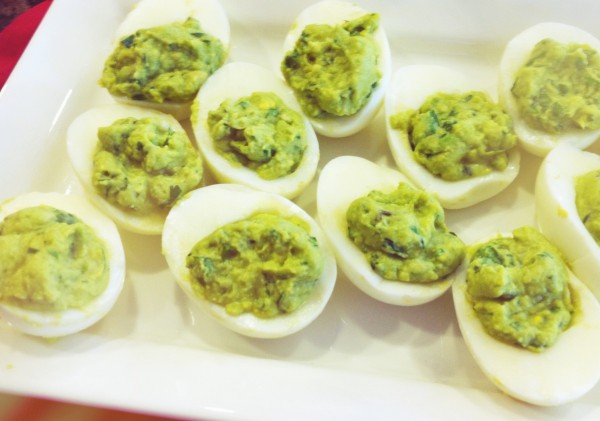 One of my favorite foods that I look forward to at Easter are deviled eggs! I'm an egg eater as it it, I love the protein, but I also love the zingy and creamy little eggy devils. So delicious and definitely a piece of my past. With my personal lifestyle changes I try not to use mayonnaise, so i thought I'd give good ol' Avocado a shot as a replacement! Inspired by the flavors of my Avocado Chicken Salad, I decided to create these with a similar flavor and zest! Be prepared to add some flavor to your Easter spread. Also a great side to bring to other gatherings!
Ingredients

6 Hard Boiled "Happy" (Pastured) Eggs, peeled
2 Avocados (or 1 Large)
3 tsp Gluten Free Mustard (Dijon is a great option for extra flavor)
2 tsp Minced Garlic (I LOVE Garlic!)
2 Tbsp Lime Juice
2 Tbsp Cilantro, chopped
¼ tsp Paprika
Himalayan Pink Salt and Fresh Ground Pepper to taste
Instructions

Boil Eggs and then cool before Peeling
Peel Boiled eggs after chilled
Cut Boiled Eggs in half, Remove Yolks (Don't throw away), and set the whites aside along
Take four of the yolks and place in a small mixing bowl, toss the other two yolks
Add Avocados to the bowl with the yolks and mash together
Add Mustard, garlic, lime juice, cilantro, paprika, salt and pepper and mix all ingredients together well
Taste test and add any extra flavor you may want… this could be mustard, paprika, lime juice, or salt/pepper -Make it to your taste!
Spoon your avocado/yolk mix into the Egg White Halves
Voila! Now you can add a garnish of Cilantro or Paprika or both if you'd like!
Yield: 1 Dozen Deviled Eggs
/ tags / Appetizers, Gluten-Free, Grain-Free, Side Dishes, Snacks