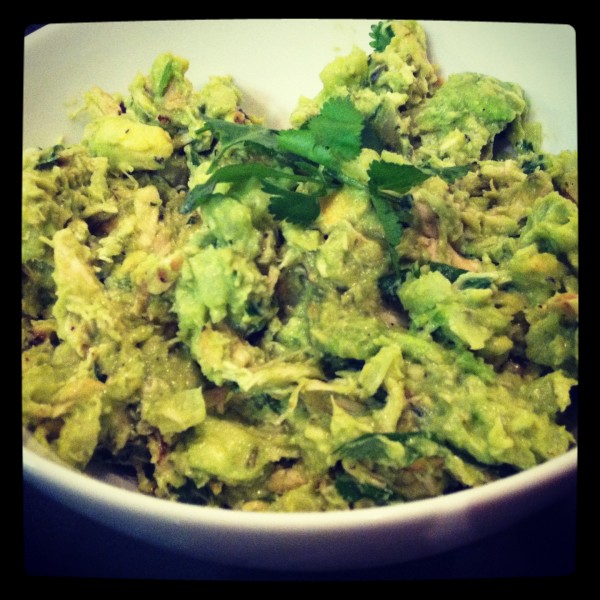 I saw several different recipes floating around on good ol' pinterest and I was inspired by all of them and decided to create my own recipe. This Avocado chicken salad has become a staple for me, sooo good. This is the perfect Chicken salad (great for spring & summer seasons), it's super easy, and it's healthy! Double or triple the recipe if you're serving more than 4 people.
This recipe is a great non-dairy option to the greasy/fatty chicken salad recipes out there- no mayo! The other chicken salad recipes also A clean option for your belly!
Ingredients

-2-3 Organic Chicken Breasts, cook and then shred *The short cut, pull meat from an organic rotisserie chicken
-1 Ripe Avocado
-1/2 Onion, chopped
-Handful of chopped Cilantro, to your own preference. *leave a little for garnish
-Juice of 1 lime
-A pinch or two of Himalayan Pink Salt
*You can also add ground pepper, but I love the salty citrus taste!
Instructions

-Shred cooked organic chicken breast (or pull/shred from a rotisserie chicken) and place in a bowl
-Add Avocado to the bowl and begin to mash around with the chicken
-Add chopped onions and cilantro, mashing these ingredients into the chicken and avocado
-Squeeze lime juice and sprinkle pink salt and mash all ingredients together mixing all flavors well
-Taste to make sure it's the flavor you're going for
-Garnish with some cilantro on top
*I serve my Avocado Chicken Salad as is, over a bed of greens, inside a Brown Rice Tortilla wrap, or even dip Blue Corn Chips in it and eat as a dip!
This recipe is great for a get together (just double or triple the recipe), but I also love to keep some of this whipped up in my fridge for a quick go to meal throughout the week!
/ tags / Appetizers, Dinner, Gluten-Free, Grain-Free, Lunch, Main Dishes, Non-Dairy, Salads, Side Dishes, Snacks