Apple Cranberry Pie with Walnut Streusel Topping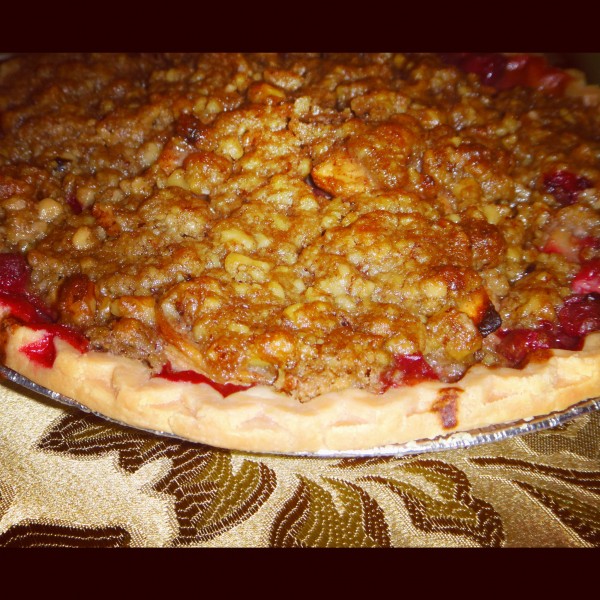 This is a non-gluten free recipe I found somewhere on the internet a few years ago, but have easily made some changes to make it gluten-free!
I cannot go without a good pie during the holiday season and end up making this recipe a few times between Thanksgiving and Christmas!
I've made this recipe as easy as possible. I guess I kind of cheat (shhh- no one needs to know). I use a g-free pie crust from an allergy friendly store like Whole Foods. Sometimes the crusts that are available are smaller ones so use as many as you need to use all of the filling, you may just have to make a little extra topping. This truly depends on the size of your crusts and how many mouths you're looking to feed.
WARNING- This doesn't taste G-Free so you may want to make an extra to stash for yourself, because all your gluten eating family and friends may finish this pie of before you get a chance! 🙂
Ingredients

PIE FILLING INGREDIENTS:
Gluten Free Crust
4 organic apples (I used 2 honey crisp and 2 gala)- Peeled, cut, & cored
1.5 cups organic cranberries
1/2 tsp lemon juice
1/2 cup Coconut Sugar
2 Tbsp Coconut Flour OR All Purpose GLUTEN FREE Flour
1 tbsp cinnamon
1/4 tsp nutmeg
1/4 tsp cloves
A dash of cardamom (I use an Apple Spice mix instead because that's what I have in my pantry)
splash orange juice (or the juice of an orange!)
1/4 cup Greek Yogurt
STREUSEL INGREDIENTS – when using 2 pie crusts I often double this or play around with what I need
-1 cup of walnuts
-1/2 cup of melted Ghee or melted Coconut Oil (or butter)
-4 Tbsp Coconut flour OR All Purpose GLUTEN FREE flour
-4-6 Tbsp of Coconut Sugar (find your sweet spot)
Instructions

-Begin by placing Plain Pie Crust in oven for 5 minutes at 325°F- some crusts may have other suggestions for pre-baking, follow those instructions.
-Peel, Core, and Cut apples into wedges.
-Toss apples in a bowl and squeeze on lemon juice to prevent them from browning
-Combine all of the filling ingredients in the apple bowl and mix it moderately well. Let stand for about 10 minutes and everything will become juicier! After 10 minutes, toss it again to coat the apples and cranberries well.
-Transfer filling mix to your partially pre-baked crust
-Place pie in oven at 350°F and bake for 25 minutes
-While the pie with filling is baking, prepare the streusel topping.
-Smash up the walnuts (not so fine as to make a powder) and simply (vigorously) mix and squeeze all of the ingredients together until you get a crumbly texture. (I use my hands to squeeze together!)
– Set this aside in the fridge until time is up on the oven.
-As soon as time is up, take the pie out of the oven and spread the streusel topping on top
-Place pie with streusel added on top back in the oven for 30 minutes or until your pie is perfectly golden brown and looking done.
-Once pie is finished let it cool and then ENJOY!!!
MMMMM. SUCH AN AMAZING RECIPE, MY MOUTH IS ALREADY WATERING- TIME TO GET BAKING!
/ tags / Desserts, Gluten-Free