Almond Butter Banana Cookies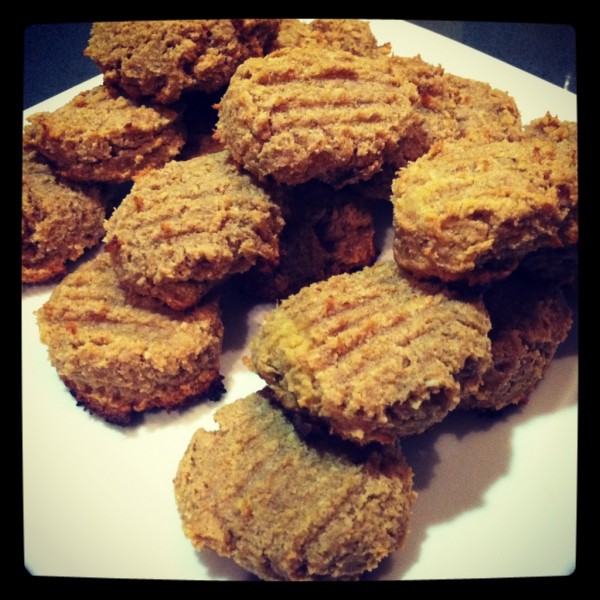 {Recipe Inspired by Cavegirl Cuisine}
I've been avoiding Peanut Butter these days, seems to be another allergy of mine, so I've been looking to bake more with Almond Butter. Why not? It's smooth, creamy, nutty… I love it! I had been trying to come up with a cookie recipe using almond butter, but I ended up googling and I found this recipe and I had to try it! Once I did, I had to share. These cookies aren't your normal cookie flavor or texture, they are more cakey and are kind of like eating mini bites of banana bread. Yum!
Ingredients

-3/4 cup creamy unsalted almond butter
-1/3 cup raw honey
-1/4 cup coconut flour
-1/4 cup + 2T almond meal
-2 Organic bananas (If they're really big, just use 1)
-1 tsp baking powder
-1 egg
Instructions

-Preheat oven to 350 degrees
-Mix all ingredients together in a medium size bowl. Mix thoroughly.
-Use coconut oil to grease cookie sheet or line with parchment paper.
– Drop small a spoonful of cookie dough on the cookie sheet leaving about 1-inch between cookies. I used my cookie scoop/melon baller!
-Bake for 12 minutes until the edges start to brown.
-Let cool for about 30 minutes before you dive in!
/ tags / Desserts, Gluten-Free, Grain-Free, Low Glycemic, Non-Dairy, Snacks, Vegetarian