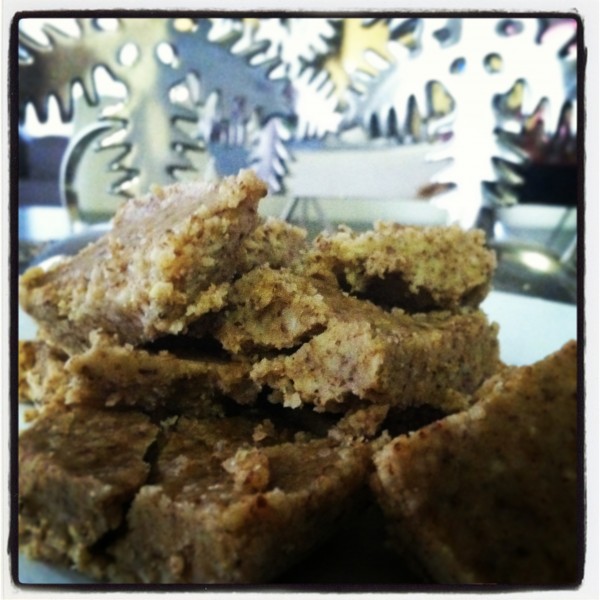 These Almond Power Bars are a perfect snack or even treat. They're a little sweet & slightly salty.  I loved having these around during these crazy busy weeks leading up to the holidays just to have something satisfying and tasty around to snack on. They'd even be great to set out at a holiday gathering. Your kids will even LOVE this great healthy snack. See below for my suggestion to add dark chocolate!
Ingredients

1 cup almonds (preferably raw & sliced may be easier, but not necessary)
1 cup almond meal
1/2 cup flax seeds
1/2 cup shredded unsweetened coconut
1/2 cup almond butter (organic, raw)
1/2 teaspoon sea salt
1/4 cup coconut oil
1 tablespoon vanilla extract (make sure it's gluten free)
1 tablespoon honey or xylitol
Instructions

-Mix almond meal, almonds, flax meal, shredded coconut, almond butter and salt in a food processor. (My food processor is small, so I did this in two batches, and I ground my almonds first)
-Pulse your mixture for about 10 – 12 seconds and then set aside for a minutd
-In a sauce pan melt coconut oil over low heat and add vanilla and honey (or xylitol)
-Add coconut oil mixture in food processor and pulse until ingredients are well mixed and looks like a coarse paste
-Press into an 8×8 glass baking dish (you don't need to grease your baking dish)
-Chill in refrigerator for 1 hour, until mixture hardens
-Remove from refrigerator and cut into small bars
*These bars need to be refrigerated for storage or they will get extra gooey
**OPTIONAL: Add some chocolate to make this more of a dessert! Use dark chocolate and melt in a saucepan. Pour chocolate over bars (after the bars have cooled & hardened for an hour). Once your chocolate is spread on top, stick bars back in the fridge for another hour before serving. These would be great with a chocolate drizzle too!
ENJOY!!
/ tags / Breakfast, Desserts, Gluten-Free, Grain-Free, Low Glycemic, Non-Dairy, Snacks, Vegetarian